Evolutionary quantitative genetics of animal personality in the wild
Class, Barbara (2017-10-27)
---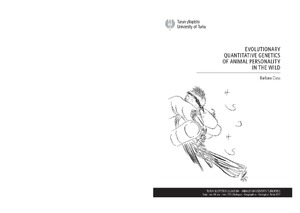 Turun yliopisto
27.10.2017
Julkaisun pysyvä osoite on:
http://urn.fi/URN:ISBN:978-951-29-6956-2
Tiivistelmä
Individuals within populations often show repeatable behavioural differences which reflect variation in personality. In contrast to human personality, which has been extensively studied by psychologists for several decades, animal personality has only recently drawn the attention of behavioural ecologists. Animal personality is now known as a widespread phenomenon in nature and has been increasingly studied over the last 15 years due to its important ecological and evolutionary implications. Importantly, the mere existence and maintenance of personality, when individuals are expected to be behaviourally flexible, remains a puzzle which needs to be solved. The bulk of animal personality studies aims at understanding the evolution and causation of animal personality, and has shown that personality is often related to individual performance such as survival and reproductive success. In this context, quantitative genetics provide a framework to study the evolution of animal personality. This is because personality traits vary continuously within populations and can be considered as quantitative traits comparable to size, determined by many genes which are inherited according to Mendelian rules. Unfortunately, the uptake of ideas and concepts of quantitative genetics to the study of animal personality has been slow and questions related to personality development, although essential to understand its evolution, have been understudied. The main aim of my thesis is to provide a quantitative genetics view of personality in a wild population of blue tits (Cyanistes caeruleus). The research presented in this thesis addresses a range of classical themes in evolutionary quantitative genetics in the context of animal personality evolution, that is, heritability, genetic correlations, (correlated) selection and plasticity. Indeed, quantitative genetic approaches were applied to two behavioural responses to handling measured in adults and nestlings and showed that that these two responses are heritable and reflect aspects of blue tits' personality. Although these personality traits are genetically correlated in nestlings, the genetic correlation between them disappears in adults because of developmental plasticity. In addition, the personality traits measured in adults are linked to their survival and reproductive success, and one of these traits shows an age-related decline which is consistent with predictions from evolutionary theories of senescence. Finally, a variance-partitioning description of assortative mating shows that the approach traditionally used for estimating assortative mating in fixed traits is largely inappropriate when applied to labile traits such as behaviour. Alternative approaches allowing for a better estimation of assortative mating and other sources of phenotypic resemblance between mated partners are then introduced. In addition to providing some methodologies and examples to facilitate the use of quantitative genetics in the study of personality, this thesis shows the merits of adopting this framework, which has the potential to move personality research further. This is because applying quantitative genetics to the study of animal personality not only enables answering questions that have been overlooked, such as age-related plasticity, but also gives insight into potential mechanisms maintaining variation in personality.