European Borders of Justice - Practical Reasoning on Free Movement within the European Union
Heinikoski, Saila (2017-11-03)
---
European Borders of Justice - Practical Reasoning on Free Movement within the European Union
(03.11.2017)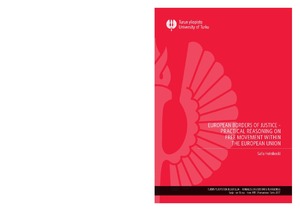 Turun yliopisto
Julkaisun pysyvä osoite on:
https://urn.fi/URN:ISBN:978-951-29-6972-2
Kuvaus
Väitöskirjan verkkoversiossa on julkaistu vain teoksen johdanto ja johtopäätökset
Notice. The electronic version of the thesis differs from the printed version. The electronic version contains only the introduction and discussion parts of the dissertation|
Tiivistelmä
The right to free movement is considered the right of each European Union (EU) citizen. The present study examines how European politicians justify and criticize freedom of movement in the period from November 2004 to January 2015. The analysis takes into account the discourses of the Heads of State or Government and Ministers of the Interior of six major European states (UK, Germany, France, Italy, Spain and Romania). In addition to these national leaders, the speeches of European Commissioners responsible for free movement matters are also considered. The research questions include:
1) How can we theorize about free movement discourses?
2) In what ways do EU politicians articulate and advance their views?
3) How do the observed countries and the European Commission approach the question of European mobility?
4) What do these results reveal about the prevailing moods with respect to Europeanness?
The study introduces a new conceptual framework for analysing practical reasoning (justification of actions) in political discourses. The results indicate that the politicians utilize similar types of reasoning across all countries. This means that even though certain politicians may have diametrically opposing views on issues related to free movement, they nonetheless utilize a similar type of reasoning to justify their claims. The study demonstrates that politicians predominantly refer to legal obligations as well as the costs and benefits of free movement and less to sentiment-related issues.
In addition to results related to political discourses, the study unearths wider problematics related to free movement and to the groups of "insiders" and "outsiders" in Europe. It brings to light the diversified and variegated approaches towards different groups of movers, which vary from country to country and across the political spectrum. The results reveal that people from outside the EU are categorically depicted as threatening and seem to be therefore less entitled to free movement.
Oikeus vapaaseen liikkuvuuteen pidetään jokaisen EU-kansalaisen perusoikeutena. Tässä tutkimuksessa tarkastellaan sitä, miten vapaa liikkuvuus oikeutetaan ja miten sitä kritisoidaan eurooppalaisten poliitikkojen puheissa marraskuusta 2004 tammikuuhun 2015. Analyysissa tutkitaan kuuden merkittävän EU-maan (Saksa, Iso-Britannia, Ranska, Italia, Espanja ja Romania) valtionpäämiesten ja sisäministerien vapaata liikkuvuutta koskevia lausumia. Valtionjohdon lisäksi tutkimuksessa analysoidaan vapaasta liikkuvuudesta vastaavien EU-komissaarien puheita. Tutkimuksessa vastataan seuraaviin kysymyksiin:
5) Miten vapaan liikkuvuuden diskursseja voidaan teoretisoida?
6) Millä tavalla eurooppalaiset poliitikot ilmaisevat ja perustelevat kantojaan?
7) Millä tavalla tarkastelumaissa ja komissiossa suhtaudutaan eurooppalaiseen liikkuvuuteen?
8) Mitä tulokset paljastavat vallitsevista eurooppalaisuuskäsityksistä?
Tutkimuksessa luodaan uusi käsitteellinen viitekehys poliittisten diskurssien analysointiin. Tulokset osoittavat, että poliitikot voivat olla asiasta täysin vastakkaista mieltä, mutta he hyödyntävät silti samanlaisia perusteita väitteidensä oikeuttamiseksi. Useimmin lausumissa vedotaan EU-sopimuksiin sekä liikkuvuuden aikaansaamiin (taloudellisiin) hyötyihin ja kustannuksiin. Sen sijaan vähemmän huomiota kiinnitetään yhteisöllisyyteen ja solidaarisuuteen. Poliittisia diskursseja koskevien tulosten lisäksi tutkimus avaa vapaan liikkuvuuden problematiikkaa, sen sisäpiiriläisiä ja ulkopuolelle jääviä. Eri liikkujaryhmiin suhtaudutaan eri tavalla eri maissa ja politiikan eri laidoilla. Tutkimuksessa osoitetaan, että EU:n ulkopuolelta tulevat kuvataan säännönmukaisesti uhkaavampina ja vähemmän oikeutettuina vapaaseen liikkuvuuteen.