The disrespected state: China's struggle for recognition through 'soft power'
Aukia, Jukka (2017-11-18)
---
The disrespected state: China's struggle for recognition through 'soft power'
(18.11.2017)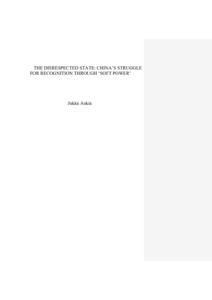 Turun yliopisto
Julkaisun pysyvä osoite on:
https://urn.fi/URN:NBN:fi-fe2017110750539
Tiivistelmä
This study examines the Western-originated International Relations (IR) concept of Soft Power in the context of the People's Republic of China (PRC). In order to bring more nuance to the particular localised phenomena, the thesis presents three different approaches to the study of soft power: qualitative rhetorical analysis, media analysis and automated sentiment analysis. The results show that soft power is envisioned within the PRC as a political tool for international and domestic use, that the economy is where China has the most soft power potential in Western media, and that the PRC soft power policies are driven by emotions rather than rational calculation, guided by perception of disrespect.

The contribution of the study is thus divided into three parts. Firstly, a discourse analysis of relevant Chinese academic journal articles published on the Mainland in Chinese 2000-2015 (n=31) shows that soft power rhetoric aims at national identity formation using such category arguments as 'Anti-Westernisation' and 'cultural security'. In essence, the analysed soft power rhetoric formulates Chinese culture as being under threat from globalisation and Westernisation.

Secondly, the study applies media analysis to interpret popular culture produced by the PRC public diplomacy bureaucracy. The results find negative dispositions vis-à-vis 'self' and 'other', as well as in-group/out-group symbolism in the analysed popular culture texts.

Thirdly, to quantify China's Western media image as part of its soft power push, the study applies an automated dictionary method to analyse two Reuters news article corpora covering the years 1996–1997 and 2008–2009 (n=1,400,000). Using automated content classification, the data is first geocoded into China-, Japan-, South Korea-, Taiwan-, and Hong Kong-related coverage and then further categorised into cultural, political, and economic topics. An automated sentiment analysis is applied to each category to quantify the tendency of the articles. The results emphasise the importance of economy in China related coverage, whereby the assumption of Chinese public diplomacy is not supported: no categorical negative Western media slant against China in comparison to other East Asian regions is found.

The study demonstrates that the phenomenon referred to as soft power within the PRC tackles the challenges of modernisation and progress by placing emphasis on cultural safety and national image construction amid the perceived threats of globalisation and Westernisation. This is seen as an answer for the Chinese state in search of national identity, legitimacy and communal acceptance, still struggling with a collective perception of disrespect stemming from historical Western hegemony.