Identification of novel genes involved in the pathophysiology of adrenocortical tumorigenesis
Doroszko, Milena (2017-12-01)
---
Identification of novel genes involved in the pathophysiology of adrenocortical tumorigenesis
(01.12.2017)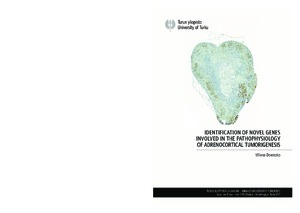 Turun yliopisto
Julkaisun pysyvä osoite on:
https://urn.fi/URN:ISBN:978-951-29-7024-7
Tiivistelmä
Adrenocortical tumors (ACT) are relatively common, with a prevalence of 6% in the aging population. They can be divided into benign adenomas (ACA) and malignant carcinomas (ACC). Tumors responding to luteinizing hormone (LH)/choriogonadotropin (CG) belong to a subgroup of hormonally active ACTs. Such tumors may develop during the chronic elevation of LH (menopause) or hCG (pregnancy), and result in cortisol, aldosterone, or/and androgen overproduction.

In the present thesis, transgenic mice expressing SV40Tag oncogene under the inhibin α promoter (inhα/Tag), were utilized to identify novel biomarker genes and unravel the molecular mechanisms in the gonadotropin-dependent adrenocortical tumorigenesis. The effects of GnRH antagonist treatment were investigated on human and mouse adrenocortical cell lines in vitro, and on mouse adrenocortical tumors in vivo. Finally, the role of LHCGR in the pregnancy-induced Cushing syndrome was characterized in a case study.

Estrogen receptor alpha (ESR1) expression was identified to be associated with the adrenocortical tumors in inhα/Tag mice, whereas several other molecules, such as GRB10, RERG, GNAS, and NFATC2, were linked to healthy adrenal tissue. Gonadotropin-dependent adrenocortical tumors of inhα/Tag mice were found to originate from zona fasciculata and LHCGR to be a prerequisite for their onset, presumably through the cell fate reprogramming by GATA6 to GATA4 transcription factor switch. After induction, GATA4 took over the transcriptional control in the adrenal gland, prompting the tumor progression and gonadal-like phenotype, and sequentially adrenocortical tumors became independent of LHCGR signaling. The GnRH antagonist cetrorelix acetate acted directly on human and mouse adrenocortical tumor cells, inducing apoptosis. Moreover, it appeared that chronically high LH/hCG concentrations promoted the transformation of LHCGR-positive cells into LH/hCG-responsive adrenocortical cells, which gave rise to the cortisol and androgen-producing hyperplastic cells in human, and estrogen-producing neoplasms in mice.

In conclusion, LH/LHCGR signaling plays a crucial role in the induction of some adrenocortical tumors. Regulatory role of GATA4 was shown to be required for tumor progression in mice. Cetrorelix acetate could be considered for improving the ACT therapy, either through its systemic or direct action, or their combined effects on adrenocortical tumor cells.