Innate immune system as the driver of Rheumatoid Arthritis
Hagert, Cecilia (2017-12-02)
---
Innate immune system as the driver of Rheumatoid Arthritis
(02.12.2017)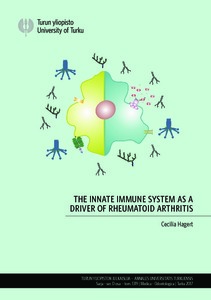 Turun yliopisto
Julkaisun pysyvä osoite on:
https://urn.fi/URN:ISBN:978-951-29-7026-1
Tiivistelmä
Rheumatoid arthritis (RA) is a chronic, inflammatory, autoimmune disease traditionally believed to be driven primarily by the adaptive immune cells. However, a large infiltrate of innate cells can be seen in the inflamed joints of patients. Furthermore, macrophages and the complement system, important parts of the innate immune system, have been implicated to have a role in chronic RA. To investigate the role of the innate immune system in RA a new model, independent of the adaptive immunity was created; called mannan-induced collagen antibody induced arthritis (mCAIA) in which the role of macrophages and complement system was confirmed as enough to drive a chronic arthritis in a reactive oxygen species (ROS) deficient milieu. ROS has previously been implicated to affect the development of arthritis. To further investigate this a transgenic ROS inducible mouse was created to investigate the role of ROS at different stages of the disease; this mouse is deficient of ROS until induced. ROS was shown important for regulating both the primary and the effector phase of the disease, thus postulating a broad role for ROS as regulators of autoimmune disease. Interestingly, the collagen specific T cells were of importance primarily in the beginning of disease but no difference could be seen between sick and healthy mice in later disease, while the macrophages seemed of importance throughout the disease. Another regulator of the autoimmune disease was found to be the macrophage mannose receptor (MR). Loss of MR caused both higher severity in mCAIA and in the psoriatic arthritis model mannan-induced psoriasis (MIP). In conclusion, a hypothesis is presented where the adaptive immunity (e.g. T cells and autoantibodies) is of importance primarily in the initiation of arthritis, but the chronic arthritis is primarily driven by the innate immunity (e.g. macrophages, complement cascade and neutrophils). Further studies are required to confirm this, but if true it could affect the manner we treat RA patients or a subgroup of them, focusing it more towards medicine targeting the innate immunity.
Det medfödda immunförsvaret driver reumatism
Reumatisk artrit (RA) är en kronisk, inflammatorisk, autoimmun sjukdom traditionellt definierad som huvudsakligen adaptiv immuncellsdriven. Ett stort infiltrat av medfödda immunceller kan dock ses i patienters inflammerade leder. Både makrofager och komplement systemet, viktiga delar av det medfödda immunsystemet, har kopplats till kronisk RA. För att undersöka det medfödda immunsystemet vidare, utvecklades en ny kronisk artritmodell oberoende av det adaptiva immunförsvaret; kallad mannan inducerad collagen antikropps inducerad artrit (mCAIA). mCAIA drivs av makrofager och komplement systemet i möss med bristfällig produktion av syreradikaler (ROS). ROS har en tidigare påvisad roll i reglering av artrit. För att vidare studera detta utvecklades en mus som saknar full ROS produktion innan det induceras; detta för att kunna undersöka ROS roll i olika faser av sjukdomsförloppet. ROS visades viktigt i regleringen av både den primära och kroniska fasen av RA. Intressant var att collagen specifika T celler visade sig ha en roll i den primära fasen men ingen skillnad sågs mellan sjuka och frisk individer i den kroniska fasen, medan makrofager verkar vara viktiga i bägge sjukdomsfaser.En annan viktig regleringsmekanism av autoimmun sjukdom visade sig vara makrofag mannos receptor (MR). Förlust av MR leder till en allvarligare sjukdom i både mCAIA och i en psoriasis artrit modell. Som konklusion har en hypotes lagts fram där det adaptiva immunsystemet (till exempel T celler och autoantikroppar) är viktigt främst i initieringen av artrit, medan den kroniska artriten främst drivs av det medfödda immunsystemet (till exempel makrofager, komplementsystemet och neutrofiler). Vidare studier behövs, men om det stämmer kan det påverka hur vi medicinerar RA patienter eller en subgrupp av dem. Den nya medicineringen skulle då fokusera mer mot att påverka det medfödda immunförsvaret.