Selective Outsourcing in Global IT Services : Operational Level Challenges and Opportunities
Majanoja, Anne-Maarit (2017-12-15)
---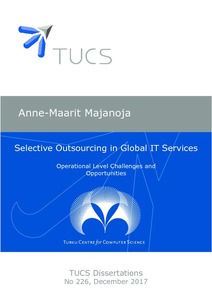 Turun yliopisto Turku Centre for Computer Science
15.12.2017
Julkaisun pysyvä osoite on:
http://urn.fi/URN:ISBN:978-952-12-3616-7
Tiivistelmä
Companies need to answer and react timely and efficiently to their customers' perception in order to stay in business. Companies are finding ways to control and reduce costs. Increasingly, internal IT development and service delivery activities are outsourced to external suppliers. The most common outsourcing forms are total and selective outsourcing, which are produced in nearshore and/or offshore mode.

In this dissertation, the case units are two global units in Nokia Devices: IT unit and Delivery Quality and Corrective Action Preventive Action (DQ and CAPA) unit. This dissertation consists of five publications and five research questions. The motives for the research questions originate from the case units' real-life needs and challenges. The research approach used is qualitative. Action research was conducted during years 2009-2013. This research gives focus on the global IT service delivery, although the case company's core-competence was to produce end-consumer products. The target was to get operational level knowledge from the case units' outsourcing operation and practices in a Global Selective Outsourcing Environment (GSOE).

This dissertation addresses the opportunities and challenges of outsourcing faced by the operational level personnel. In the GSOE, the service purchasing company's personnel and the supplier's personnel jointly cooperate to produce the expected outcomes and IT services. This research found that the GSOE-based operation includes multi-level customer- and supplier-ships. In order to answer the customers' perception, the operation included quality and customer-centric practices. This research found that defining and implementing customer centricity is challenging. Unclear definitions, requirements, roles, responsibilities, and activities can negatively affect the operational level implementation. The GSOEbased operation includes also contract negotiations among the GSOE parties. Successful IT outsourcing is not built only on formal contracts. Focus is needed also on building trust, commitment, communication, and mutual cooperation and dependence.

This study found that retaining operational level progress and information visibility inside the service purchasing company made it possible to hold the ownership and avoid getting into a "supplier trap." The operational level cooperation, interaction and quality management practices affected the service purchasing company's trust and satisfaction. The trust in the case units was found to exist among people, and this trust was formed based on an individual's knowledge, capabilities, behavior, and performance. Quality management practices played a significant role in building trust that added to the credibility of the operation.