Lateral flow immunoassays with fluorescent reporter technologies
Juntunen, Etvi (2018-02-23)
---
Lateral flow immunoassays with fluorescent reporter technologies
(23.02.2018)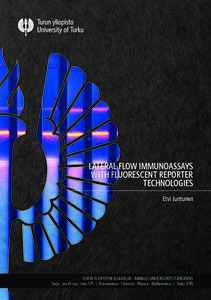 Turun yliopisto
Julkaisun pysyvä osoite on:
https://urn.fi/URN:ISBN:978-951-29-7127-5
Tiivistelmä
Lateral flow assays (LFAs) are user-friendly diagnostic test devices most commonly known from the home pregnancy tests. Since their appearance in the market in 1980's, LFAs have become well-established and products have been developed for various applications, but the most commonly sold LFAs still have the same basic features as the early products. Compared to other rapid diagnostic test (RDT) platforms, the main benefits of LFAs include inexpensive manufacturing costs, relatively fast assay development process, and the stand-alone capability of the test to be used without any instrumentation.


The analytical membrane that provides the solid support for the bioassay reagents and allows the liquids to migrate through the binder lines by capillary force is almost exclusively manufactured of nitrocellulose. As the nitrocellulose remains the most widely used material, its optical properties, mechanical robustness, and chemical stability are not optimal for the RDT development. However, the established status of the nitrocellulose membrane in the RDT industry and the continuous product development suggests that the material will remain in LFAs for years to come.


Typically, in LFAs, the coloured reporter particles form visible lines on the analytical membrane depending on the presence or absence of the analyte of interest. The visible lines can be interpreted visually without any instrumentation. However, the visual assessment of the assay read-out is prone to subjectivity in interpretation and can be affected by poor lighting conditions. Moreover, the visual read-out can only be used to generate a qualitative or a semi-quantitative result.


The versatility of the lateral flow technology can be improved by using efficiently quantifiable reporter technologies such as fluorescent nanoparticles. However, the drawback of pursuing high analytical sensitivity and quantitative results by fluorescent reporter is the apparent need for a reader instrument. With fluorescent reporters, the optical properties of the assay membranes and sample fluids must be considered in order to achieve minimal interference to the detection of the reporters. Autofluorescence originating from the assay materials can be avoided by using the upconverting nanoparticle (UCNP) detection technology. Nevertheless, the non-analyte specific background signal can still occur from non-specific binding of the reporter particles.


The aim of the thesis is to explore the opportunities arising from the use of different fluorescent reporter particles to improve the analytical sensitivities of LFAs, and to evaluate the feasibility of fluorescent reporter particles as a substitute for common visually detectable reporters. Exploiting the increased detectability of the reporter particles to improve the assay sensitivity requires careful re-optimization of the assay conditions.