Spatial behaviour, habitat use and breeding performance of a long-lived raptor in the context of wind energy
Balotari Chiebáo, Fábio (2018-03-16)
---
Spatial behaviour, habitat use and breeding performance of a long-lived raptor in the context of wind energy
(16.03.2018)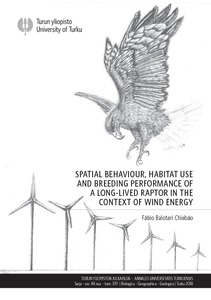 Turun yliopisto
Julkaisun pysyvä osoite on:
https://urn.fi/URN:ISBN:978-951-29-7145-9
Tiivistelmä
Natural ecosystems and associated biota suffer from a wide range of human activities, including habitat destruction, land-use changes and climate warming. Easily subject to disturbance and often requiring large hunting grounds, raptors are notoriously vulnerable to habitat loss or degradation. In the 1960s and 1970s, many white-tailed eagle populations experienced a drastic decline primarily due to environmental pollutants. Although the species has recovered and expanded rapidly with the implementation of protective measures, human interference still constitutes a relevant source of disturbance and mortality. In Finland, forestry and land exploitation for the development of e.g. industries, summer houses, roads and wind farms, are among the greatest concerns. In this thesis, I studied various aspects of the life history, ecology and behaviour of the white-tailed eagle with an emphasis on its future conservation, particularly with respect to wind energy. More specifically, I focused on white-tailed eagles breeding in proximity to wind farms, to test whether the distance between an eagle territory and the nearest installation had a potential impact on breeding success. With the use of high-precision telemetry data, I discussed the spatial behaviour of white-tailed eagles during the post-fledging period in light of a hypothetical scenario of turbine deployment around the nests. As a complement, I evaluated their habitat use by determining selection or avoidance of habitat classes such as artificial surfaces, agricultural areas, semi-natural areas, waterbodies, roads, and forest stand age. Furthermore, I studied the large-scale movements of white-tailed eagles during the dispersal period, assessing their space use in relation to the distribution of existing and proposed wind farms across Finland. I found that a breeding pair holding a territory closer to an installation has a lower probability to breed successfully when compared to a pair from a territory lying farther away. Such lower probability may in part reflect a harmful interaction between the eagles and wind turbines in the form of collision mortality, to which the adults appear to be particularly vulnerable during the breeding season. This pattern raises the question of whether the recommendation of a 2-km buffer around active nests is enough to ensure little interference in breeding performance. Regarding the post-fledging period, I found that the probability of a young eagle approaching a wind turbine decreases sharply as the turbine is installed at increasing distances from the nest. In terms of habitat use, the young eagles showed selection towards semi-natural areas (mostly transitional woodland/shrub), while consistently avoiding habitats associated with human disturbance, namely artificial surfaces, agricultural areas, and roads. When using forest patches, they selected young tree stands, and were also more likely to be closer to waterbodies than would be expected by chance. As for the dispersal period, I found that the eagles tended to use coastal areas with a very limited amount of artificial surfaces, where also the potential for wind-energy production is considerable. However, the areas targeted for wind-energy development did not coincide with the eagles' highest relocation frequency, suggesting that they do not represent an elevated threat to dispersing eagles. Nevertheless, caution should be taken against interpreting that co-occurrence poses no potential harm at any given site. Ideally, construction should favour sites that are already environmentally disturbed. The conversion of natural habitats into human infrastructure, including wind farms, leads to greater encroachment of unfavourable or potentially harmful areas for white-tailed eagles. As their populations continue to expand, land-use planning will play an increasing role in the protection of nesting sites and surrounding areas identified as important for their normal activities, such as coastal habitats. The results of this thesis extend the current knowledge on the white-tailed eagle and provide useful information for conservation planning.
Luonnolliset ekosysteemit ja niiden eliöstö kärsivät ihmisten aiheuttamista toimista, kuten elinympäristöjen tuhoutumisesta, maankäytön muutoksista ja ilmaston lämpenemisestä. Petolinnut ovat erityisen herkkiä elinympäristöjen tuhoutumiselle tai heikkenemiselle, koska vaativat usein suuria saalistusalueita ja ovat sensitiivisiä häiriölle. 1960- ja 1970-luvuilla monet merikotkapopulaatiot romahtivat ympäristösaasteiden vaikutuksesta. Vaikka laji on suojelutoimenpiteiden ansiosta toipunut ja levinnyt voimakkaasti, ihmistoiminta on edelleen varteenotettava häirinnän ja kuolleisuuden aiheuttaja. Suomessa mahdollisia häiriöiden aiheuttajia ovat esimerkiksi metsänhoito, maankäytön kehittäminen muun muassa teollisuuden tarpeisiin, sekä kesämökkien, teiden ja tuulipuistojen rakentaminen. Väitöskirjassani tutkin merikotkan elinkiertoa, ekologiaa ja käyttäytymistä eri näkökulmista lajin tulevaisuuden suojelun kannalta, erityisesti huomioiden tuulivoiman vaikutuksen. Ensin tutkin tuulipuistojen läheisyydessä pesivien merikotkien pesimämenestystä suhteessa etäisyyteen lähimpään tuulivoimalaan. Paikannustietoja käyttäen tarkastelin merikotkien tilankäyttöä pesäpoikasvaiheen jälkeisenä aikana, huomioiden tuulivoimaturbiinien teoreettisen sijoittamisen pesien ympärille. Lisäksi tarkastelin elinympäristön käyttöä arvioimalla, mikäli kotkat pesäpoikasvaiheen jälkeen valitsivat tai välttivät eri elinympäristöluokkia kuten keinotekoisia pintoja, maatalousmaita, luontaisen kaltaisia elinympäristöjä, vesistöjä, teitä tai eri-ikäisiä metsikköjä. Lopuksi tutkin merikotkien liikkeitä muuttoaikana laajassa mittakaavassa ja arvioin kotkien tilankäyttöä suhteessa toimivien ja suunnitteilla olevien tuulipuistojen sijaintiin Suomessa. Havaitsin, että sellaisen parin pesintä, jonka reviiri sijaitsee lähempänä rakennelmaa, epäonnistuu todennäköisemmin kuin parin, jonka reviiri sijaitsee kauempana. Tämä voi osittain johtua tuuliturbiinin aiheuttamasta törmäyskuoleman uhasta, jolle aikuiset näyttävät olevan erityisen alttiita pesimäkautena. Pesäpoikasvaiheen jälkeisenä aikana nuoren merikotkan todennäköisyys lähestyä tuuliturbiinia vähenee huomattavasti, kun turbiini asennetaan kauemmaksi pesästä. Elinympäristön käytössä nuoret kotkat näyttivät valitsevan luontaisen kaltaisia elinympäristöjä (lähinnä siirtymävaiheista metsää/pensaikkoa) ja järjestelmällisesti välttävän ihmisten muokkaamia elinympäristöjä, kuten keinotekoisia pintoja, maatalousmaita sekä teitä. Metsäalueita käyttäessä kotkat valitsivat nuoria metsikköjä (joilla on todennäköisesti siemenpuita ja lentotilaa), ja oleilivat lähempänä vesistöjä kuin mitä sattumalta odotettaisiin. Havaitsin myös, että kotkat muuttovaiheessa yleensä käyttivät rannikkoalueita, joilla oli hyvin rajallisesti keinotekoisia rakenteita, ja joilla myös tuulivoiman tuotannon mahdollisuudet ovat huomattavia. Tuulivoimaloiden suunnitellut sijainnit eivät kuitenkaan olleet paikkoja, joilla kotkat liikkuisivat enempää kuin muualla samalla alueella, eivätkä ne näin ollen merkitse korotettua uhkaa liikkuville merikotkille. Varovaisuuden nimissä on kuitenkin vältettävä väittämästä, että esiintyminen samoilla alueilla ei olisi uhkatekijä missään paikassa. Luonnollisten elinympäristöjen muuttaminen ihmisrakennelmiksi, myös tuulivoimapuistoiksi, johtaa enenevään määrään alueita, jotka ovat epäsuotuisia tai potentiaalisesti haitallisia merikotkille. Kun populaatiot jatkavat levittäytymistä, maankäytön suunnittelulla tulee olemaan kasvava merkitys pesimäpaikkojen ja ympäröivien, tärkeäksi todettujen alueiden, kuten rannikkoalueiden, suojelussa.