Novel 19F NMR sensors for the characterization of higher-order secondary structures of DNA and RNA
Granqvist, Lotta (2018-06-14)
---
Novel 19F NMR sensors for the characterization of higher-order secondary structures of DNA and RNA
(14.06.2018)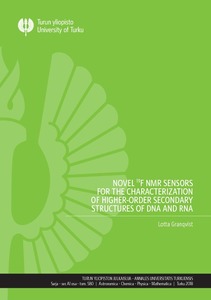 Turun yliopisto
Julkaisun pysyvä osoite on:
https://urn.fi/URN:ISBN:978-951-29-7253-1
Tiivistelmä
Both DNA and RNA can fold into a variety of non-canonical structures. Non-canonical structures, such as triplexes and G-quadruplexes, are an active research area due to their biological significance and therapeutic potential. As structural complexity and conformational transitions are essential for the diverse biological roles of nucleic acids, characterization of the dynamic nature of nucleic acid is vital to understand their functional properties. This thesis focuses on 19F NMR spectroscopy as a tool that can be used to investigate the conformational polymorphism of nucleic acids and the dynamic nature of nucleic acid-ligand interactions. The utility of 19F NMR is based on covalently incorporated fluorine labels that act sensitive reporters upon conformational transition.

In this study, six novel fluorine-labelled building blocks were synthesized and incorporated into oligonucleotides applying standard solid-phase oligonucleotide synthesis. The building blocks were successfully used to investigate DNA and RNA triplexes, RNA invasion and bistable hairpin-G-quadruplex RNA structures. Melting of triplexes could be followed from well-distinguish 19F signals of the triplex, duplex and single strand species, and melting temperatures of the structures were obtained. The temperature dependent 19F NMR data of the bistable RNAs enabled to characterize melting processes, melting temperatures and thermodynamic parameters. In addition, ion induced changes at the hairpin-G-quadruplex equilibrium positions were successfully monitored. In general, the 19F NMR experiments provided new information on investigated structures and demonstrated that five of the building blocks can be considered suitable for further 19F NMR applications.