The complexity of freshness and locality in a food consumption context
Kumpulainen, Tommi (2018-08-03)
---
The complexity of freshness and locality in a food consumption context
(03.08.2018)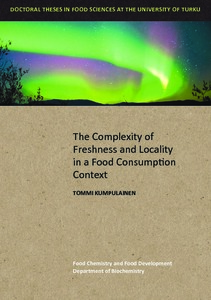 Turun yliopisto
Julkaisun pysyvä osoite on:
https://urn.fi/URN:ISBN:978-951-29-7293-7
Tiivistelmä
The life cycle of food trends have shortened considerably, but freshness and local origin seem to retain their appeal. These two concepts are often discussed in academic as well as consumer contexts, but they lack generally accepted definitions. Local food is typically bound to information that include cues such as place of production or farming practices. The concept is similar to freshness, which is not verified using only the senses, but also product-related information. Freshness and local food are often referred to as being desirable, but the true appeal to consumers requires further study. The supply chains for fresh and locally produced food are constantly developing, but the main focus is on solving practical issues rather than providing new input for academic discourse.

The overall aim of the thesis was to study freshness and locality as valueadding factors in the food consumption context, as well as examining the similarities and differences between these concepts. For both of these concepts, models were constructed to broaden the academic perspective, and thus enabling more thorough research on the subject. This study investigated the role of sensory properties on the experience of freshness (fresh and cooked), the effect on the experienced quality of information on food origin, and the effect of personal value orientations.

In this work, both locality and freshness added value to the product. The results indicated that the effect of freshness can also be perceived in the cooked product, and not only, as is usually considered, when it is uncooked or in a raw state. The appreciation of freshness was seen to be more relevant to individuals valuing good sensory qualities, while the appreciation of local food was related more closely to personal value orientations. The concept of local food is based on expectations of desirable product attributes, because the locality cannot be standardized. Personal values explained the preferences based on product origin, but the effect was dependent on product type and demographic factors. Freshness is more often seen as a token of good quality and safety, which may be more appealing especially to hedonistic individuals. Even though the two concepts overlap, they do not describe the same concept, as local food has stronger ties to ethical conduct, which is not typically connected to freshness.

This work provides a starting point for conceptualizing freshness and local
foods, and the link between them, by introducing models. Despite the two concepts being separate, the similarity between them in certain areas infers an existing link that should be considered in the future.