Proceedings of the seventh international conference on well-being in the information society : fighting inequalities (WIS 2018)
Li, Hongxiu; Suomi, Reima; Pálsdóttir, Ágústa; Trill, Roland; Ahmadinia, Hamed (2018-08-21)
---
Proceedings of the seventh international conference on well-being in the information society : fighting inequalities (WIS 2018)
Li, Hongxiu
Suomi, Reima
Pálsdóttir, Ágústa
Trill, Roland
Ahmadinia, Hamed
(21.08.2018)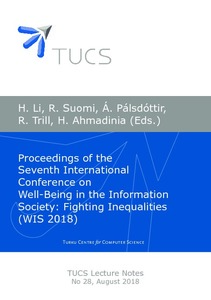 Turku Centre for Computer Science
Julkaisun pysyvä osoite on:
https://urn.fi/URN:ISBN:978-952-12-3727-0
Tiivistelmä
This publication contains selected and reviewed abstracts that were presentded at the Well-Being In the Information Society - WIS 2018 conference, which took place in Turku in Finland, during 27-29 August, 2018. The conference, which started in 2006, is a biannual event that is now being held for the seventh time.

The conference is multidisciplinary in nature. It brings together scientist and practitioners from several academic disciplines and professional specializations from around the world who share their current expertise and experiences, and exchange their views on the latest developments within the field. The focal point of the WIS conference has from the beginning been the use of information technology to promote equality in well-being. This, together with the main theme of the conference this year, 'fighting inequalities', is reflected in the content and emphasis in the publication.

We would like to express our gratitude to all of those who have contributed to the WIS 2018 conference. We owe our special thanks to the Federation of Finnish Learned Societies, the Foundation for Economic Education and Åbo Akademi University Foundation. Without the financial support received from it, the event could not have taken place. The Programme Committee and the Programme Chairs also deserve appreciations for their work and the time that they committed to ensure that the conference became successful.

We would also like to take this opportunity to acknowledge the work of the authors and thank them for participating in this publication, as well the external reviewers to helped to ensure the quality of it.

It is our great pleasure and honour to introduce this issue of the TUCS Lecture Notes to the readers. We hope that it will stimulate the interest for further research about fighting inequality in well-being.