Dual inhibition of the vicious cycle and tumor growth in breast and prostate cancer bone metastasis – evaluation of various therapeutic approaches in experimental mouse models
Suominen, Mari (2018-10-10)
---
Dual inhibition of the vicious cycle and tumor growth in breast and prostate cancer bone metastasis – evaluation of various therapeutic approaches in experimental mouse models
(10.10.2018)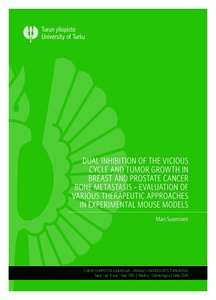 Turun yliopisto
Julkaisun pysyvä osoite on:
https://urn.fi/URN:ISBN:978-951-29-7409-2
Tiivistelmä
Bone metastases affect the vast majority of advanced breast and prostate cancer patients with metastatic disease. Since the bone microenvironment can help cancer cells to resist treatment, it is important to find treatment strategies that could disturb this intimate relationship.

We studied different treatment strategies in breast and prostate cancer mouse models to test the efficacy and clarify the mode-of-action of the tested agents. It was found that the anti-neoplastic agent sagopilone effectively inhibits bone resorption, and that alpha-radiation emitting radium-223 is able to affect both tumor growth and tumor-induced bone reaction. Radium-223 was shown to be actively incorporated into the newly formed bone by osteoblasts, providing rationale for the efficacy in osteoblastic bone metastases. However, in a striking discovery, we observed radium-223 to be efficacious in both types of bone metastases: in osteoblastic prostate cancer as well as in osteolytic breast cancer, reducing both tumor burden and the bone reaction. These effects combined contributed to increased survival, whereas zoledronic acid, inhibiting only bone resorption, and doxorubicin, affecting only tumor growth, did not increase the survival in our breast cancer bone metastasis model. The effects of a sequential combination of doxorubicin followed by zoledronic acid were investigated in an osteolytic breast cancer model, but synergistic effects were not observed.

Taken together, it was shown that effectively disrupting multiple steps of the vicious cycle can result in markedly improved treatment results. However, efficacy varies between study settings, models and drug combinations, suggesting the need of careful optimization for maximal therapeutic effects.