Means, motive, and opportunity : engaging stakeholders towards opportunity creation through effectuation
Van Mumford, Jonathan (2018-11-02)
---
Means, motive, and opportunity : engaging stakeholders towards opportunity creation through effectuation
(02.11.2018)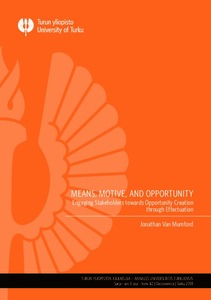 Turun yliopisto. Turun kauppakorkeakoulu
Julkaisun pysyvä osoite on:
https://urn.fi/URN:ISBN:978-951-29-7446-7
Tiivistelmä
This study builds upon the theory of entrepreneurial effectuation; a theory that explains how new firms come to be through the means oriented, iterative, and experimental actions of entrepreneurs and their engagement with diverse stakeholders. Despite this theory being strongly stakeholder dependent in nature, I argue that the role stakeholders play in opportunity creation processes through effectuation remains underdeveloped and ill-defined. In an effort to address this issue, I ask the question: How are stakeholder commitments engaged towards the process of opportunity creation through effectuation?

In order to answer this research question, I take a position within the pragmatist tradition which emphasises the human propensity towards habit and creativity in action. I employ a collection of methodological tools including a systematic literature review and a qualitative meta-analysis of the extant effectuation literature to reframe effectuation theory to a perspective with the stakeholder, rather than entrepreneur, at its focus. From my analysis I then produce a typology that describes a set of four ideal types of rationale that stakeholder may utilise in their decisions to make commitments of time and resources towards the effectual development of opportunities. Using these ideal types as inputs, I reconceptualise the model of the way in which the process of effectual opportunity or market creation unfolds. Finally, I summarise the theoretical ideas generated through my research as a number of propositional statements that can be used to guide future empirical enquiry.

My research suggests that stakeholders may differ in rationale along dimensions of instrumental versus subjective rationality, and in their emphasis on teleological versus non-teleological or autotelic rationality. These differences in rationale for making commitments will subsequently influence their post-commitment behaviour, and their interactions with other stakeholders engaged in the focal effectual process. Stakeholders may be driven primarily by the theoretically established causal or effectual logics, but may also be guided by more subjectively rational logics of faith and self-belief. These logics will inevitably influence the way in which opportunity creation processes, and the creation of new markets and firms, unfold.