The role of neuropeptide Y in the pathogenesis of the metabolic syndrome : A study of liver metabolism in transgenic mice overexpressing neuropeptide Y in noradrenergic neurons
Ailanen, Liisa (2018-11-16)
---
The role of neuropeptide Y in the pathogenesis of the metabolic syndrome : A study of liver metabolism in transgenic mice overexpressing neuropeptide Y in noradrenergic neurons
(16.11.2018)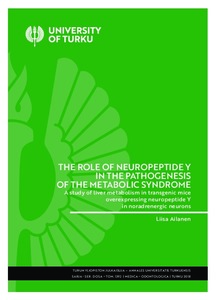 Turun yliopisto
Julkaisun pysyvä osoite on:
https://urn.fi/URN:ISBN:978-951-29-7442-9
Tiivistelmä
The metabolic syndrome (MetS) is a set of symptoms related to obesity, predisposing patients to cardiovascular diseases, and recently hepatosteatosis has been shown to play a major role in its pathogenesis. Neuropeptide Y (NPY) is a neurotransmitter found abundantly in the brain, promoting food intake and energy storage, but also the increased NPY levels in the periphery cause fat accumulation and are associated with impaired glucose tolerance. The main aim of this study was to evaluate the influence of excess NPY on the hepatic metabolism of fatty acids, glucose and cholesterol as a cause of the MetS.

The study was performed with genetically obese mice overexpressing NPY in central noradrenergic neurons and the peripheral sympathetic nervous system (OE-NPYDβH), which display obesity, impaired glucose tolerance and insulin resistance as they age. This study revealed that obese OE-NPYDβH mice exhibited also hepatic accumulation of triglycerides and glycogen, as well as hypercholesterolemia preceded by decreased hepatic fatty acid oxidation and increased synthesis of glycogen and cholesterol. Due to this phenotype, these mice are more prone to type 2 diabetes. Furthermore, hepatic glycogen metabolism could be inhibited by the anti-hyperglycemic agent, metformin, which suggests that changes in glycogen metabolism may associate with the prediabetes encountered in obese OE-NPYDβH mice.

The mechanism of action of NPY inducing the hepatic pathologies seems to involve decreased sympathetic activity in the liver of OE-NPYDβH mice, similar to that previously detected in adipose tissue. However, there seems to be less involvement of NPY directly on the liver via peripheral Y-receptors. Instead, Y2-receptors appear to mediate the obesogenic effects of NPY, and they could be a potential drug target for obesity induced by consuming an unhealthy diet combined with excess NPY.