New insights into receptor trafficking in human cancer
Sahgal, Pranshu (2018-11-16)
---
New insights into receptor trafficking in human cancer
(16.11.2018)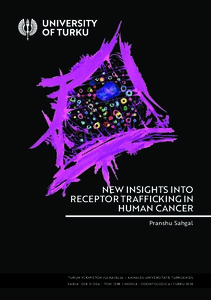 Turun yliopisto
Julkaisun pysyvä osoite on:
https://urn.fi/URN:ISBN:978-951-29-7473-3
Tiivistelmä
Plasma membrane receptors play an essential role in cancer by regulating cancer-related processes such as cell proliferation and migration in response to cues from the extracellular ligands. Integrins are cell-matrix adhesion receptors which connect the exterior of the cells to the interior facilitating adhesion and regulating many aspects of cell biology including proliferation and survival signaling. Receptor tyrosine kinases (RTKs) are cell surface receptors responding to soluble growth-factors to activate cellular signaling pathways that can be distinct or overlapping with integrins. The extent and strength of signaling by both receptor types depends on the time they engage themselves on the plasma membrane before being endocytosed inside the cell. The endocytosed receptors can either be degraded or recycle back to the plasma membrane. Therefore, the trafficking of receptors is a decisive factor for maintaining the proper cellular functions. Any dysregulation in ther trafficking may contribute to pathological conditions such as cancer. In this thesis, the role of new proteins in regulating the trafficking of integrins and two RTKs, MET and HER2 in human cancer was explored.

To investigate integrin traffic, we employed high throughput RNAi screening and proximity-dependent biotinylation (BioID) to find new regulators of integrin trafficking. These studies allowed me to establish a critical role for Golgi-localized, gamma adaptin ear-containing, ARF-binding (GGA2) and small GTPases RAB13 in promoting recycling of active but not inactive β1-integrin to the plasma membrane to facilitate breast carcinoma cell migration and in-vivo invasion. Furthermore, I also established the role of a related adaptor, GGA3, in promoting recycling of total pool of β1-integrin to the plasma membrane.

In addition, I made important discoveries about oncogenic RTK traffic in cancer. A yeast two-hybrid screen identified TNS4 as the direct interactor of MET oncogene. This interaction coupled MET to β1-integrin and stabilized active MET on the plasma membrane thus promoting its oncogenic signaling. We also identified a novel regulator of HER2 traffic in breast cancer. Sortilin related receptor 1, a sorting protein previously implicated in Alzheimer's disease and obesity, was found to be a key regulator of HER2 oncogenic fitness in breast and bladder cancer cells. My results show that SORLA supports HER2 stability and signaling through supporting HER2 recycling to the plasma membrane.

In summary, in this thesis, the new functions of GGA2, GGA3, MET and SORLA have been demonstrated in regulating trafficking of different plasma membranes receptors, therefore, influencing signaling and various cancer-related processes linked with these receptors in different cancel models.