Role of pelvic incidence in hip disorders
Pernaa, Katri (2018-12-21)
---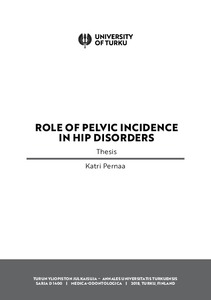 Turun yliopisto
21.12.2018
Julkaisun pysyvä osoite on:
http://urn.fi/URN:ISBN:978-951-29-7479-5
Tiivistelmä
The pelvis is a rotating modulator connecting the spine and lower limbs; it helps the body to maintain a vertical position. Pelvic incidence (PI) is fundamental, constant, and unique for each individual measure defined as the angle between the line perpendicular to the sacral plate at its midpoint, and the line connecting this point to the axis of the femoral heads. It regulates spinal curvature and has consequently become an important factor in spinal surgery. It also determines a person's ability to tilt the pelvis into retroversion, which is needed to help compensate for sagittal spinopelvic malalignment in spinal deformities or ageing. When tilting backward and forward, the pelvis rotates around the femoral heads.

Both spinal and hip disorders are common, and they often coexist. Descriptive imaging is essential when specific disorders of the spine and hip are being diagnosed or treated surgically. Previously performed hip replacement is a common condition among patients with a spinal deformity or other spinal disease. Thus a reliable measurement of spino-pelvic alignment is necessary even when a femoral head has been replaced. In addition, disorders of the hip and spine are sometimes related, and, therefore, understanding the complexity and connections of this spinopelvic unit is a widespread clinical challenge.

The aims of this thesis were 1) to investigate whether pelvic incidence is associated with the wear of hip implants in the studied sample; 2) to determine if the radiographic measurement of spinopelvic parameters after hip replacement overall (and the implant position of metal-on-metal hip implants in particular) is reliable; and 3) to evaluate the previous evidence on the connection between pelvic incidence and hip disorders in general. The study was based on data collected from 101 patients who underwent large-diameter-head, metal-on-metal hip arthroplasty. A systematic review, along with a quantitative analysis of the literature on the topic, was conducted.

In this study, no evidence was found that pelvic incidence is associated with metal wear after metal-on-metal hip replacement. The plain radiograph assessment of the position of the total metal-on-metal acetabular component and the spinopelvic parameters was found to be reliable. Hip replacement did not weaken the interpretation of spinopelvic alignment. In addition, pelvic incidence and hip osteoarthrosis seemed to be unrelated. A possible connection between the low pelvic incidence and femoroacetabular impingement observed in this study should be taken into account when clinical decisions are made in spinal and hip surgery.