Investigation and suppression of semiconductor–oxide related defect states : from surface science to device tests
Mäkelä, Jaakko (2019-02-22)
---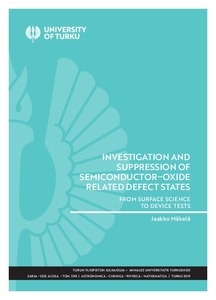 Turun yliopisto
22.02.2019
Julkaisun pysyvä osoite on:
https://urn.fi/URN:ISBN:978-951-29-7545-7
Tiivistelmä
Many present challenges in semiconductor technology are related to utilizing solid structures with atomic scale dimensions and materials with higher charge carrier mobility and/or other readily controllable properties. These include many surface-related problems because the ratio of surface parts of devices to the whole material volume increases all the time in practical device structures. One of the major problems has been oxidation of semiconductor surfaces during the manufacturing of devices.

This PhD work deals with the surface and oxide interface properties of different III–V semiconductors induced by the oxidation, the study of which is imperative in realizing devices with desired characteristics. The general goal has been in finding answers to these problematic issues on atomic scale, and whether they can be resolved with simple parameter control of a thermal oxidation treatment. Much of the work leans on a previous novel finding of crystalline oxide phases on indium-containing III–V semiconductor (100) surfaces. Various aspects of applicability of such a structure in real semiconductor devices are considered in this work.

Common denominator in all of the experiments and studies is that the initial investigations were carried out in very controlled environment in ultrahigh-vacuum: detailed basics and initial characterizations were carried out with high resolution and precision surface science methods. In particular, this work has resulted in novel crystalline oxide phases observed on GaSb(100) and InSb(111)B semiconductor surfaces. They have been extensively discussed from an applied point of view as well as their fundamental characteristics, relating to their already previously studied counterpart, InSb(100). Furthermore, beneficial passivating characteristics of a stabilizing crystalline InOx interfacial layer beneath an Al2O3 and reasons behind such behavior are demonstrated for InGaAs IR detector device structure.

This thesis provides background of semiconductors, their surfaces, interfaces, and semiconductor technology as appropriate, research methods utilized, and briefly summarizes the findings of the work.