Nursing intensity and nurse staffing in perioperative settings
Rauta, Satu (2019-03-01)
---
Nursing intensity and nurse staffing in perioperative settings
(01.03.2019)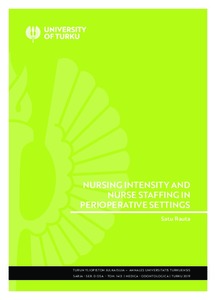 Turun yliopisto
Julkaisun pysyvä osoite on:
https://urn.fi/URN:ISBN:978-951-29-7559-4
Tiivistelmä
The goal of this study was to design and test a nursing intensity (NI) instrument in perioperative settings to produce information concerning patients' care needs. This information is intended to be used for knowledge-based management purposes when applying optimal nurse staffing.

In Phase I, a Delphi method with two rounds (n=55) was used to define the core elements of perioperative nursing. Then those core elements were tested to evaluate NI during the pre-, intra-, and postoperative phases of the surgical patient's care process (n=308 patients). In Phase II, the core elements were implemented in an instrument, and further testing was carried out in different perioperative settings (n=876 patients). In Phase III, an integrative review was con-ducted to find out how nurse staffing had been executed in perioperative settings.

According to the results, the core elements of perioperative nursing describing patient's safety or patient's physiological needs were seen as the most crucial. A principal component analysis revealed that a patient's care needs vary from the intraoperative to postoperative phases of perioperative nursing. Patients in a high ASA class more frequently had high intraoperative NI points, but patients in a low ASA class did not automatically have fewer intraoperative care needs. The length of stay in the post-anesthesia care unit (PACU) and the type of follow-up unit could be predicted with intraoperative NI. Scant evidence was found concerning nurse staffing in perioperative settings. The need to take into account patients' care needs showed up in some papers, but these were not expressed in an assessable form. Staffing models in relation to perioperative nursing-sensitive outcomes were not found.

This study offers an instrument for evaluating NI in perioperative settings. This information produced can be utilized for nurse staffing and nurse staff allocation purposes. More research is needed that focuses more on the detailed use of information based on NI. Its potential to serve as a knowledge-based management tool also needs clarifying in future studies.