In quest of the optimal self : wellness consumption and lifestyle – a superficial marketing fad or a powerful means for transforming and branding oneself?
Grénman, Miia (2019-03-15)
---
In quest of the optimal self : wellness consumption and lifestyle – a superficial marketing fad or a powerful means for transforming and branding oneself?
(15.03.2019)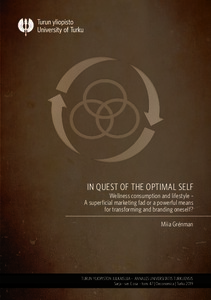 Turun yliopisto. Turun kauppakorkeakoulu
Julkaisun pysyvä osoite on:
https://urn.fi/URN:ISBN:978-951-29-7585-3
Tiivistelmä
The current thesis discusses wellness consumption and lifestyle, both of which are embedded in current consumer culture and the mainstream consumer lifestyle in various ways. In this thesis, wellness is understood as a holistic and positive approach to health that emphasizes optimal health, self-responsibility, and illness prevention in reaching the "optimal self." The global wellness industry is a relatively young economic sector that is growing at a significant pace. New markets are appearing with technological innovations and new consumer segments. The wellness trend is further strengthening the notion of "the self" and stressing the current era's strong, individual centricity. Wellness emphasizes an entrepreneurial self and is best understood as a form of transformative consumption, a self-enhancing lifestyle, and a self-investment strategy.

The purpose of the current thesis is to enhance the theoretical and empirical understandings of wellness consumption and lifestyle in reaching the optimal self. To explore this purpose in more detail, the following research questions are posed: (1) How have conceptions and understandings of wellness evolved over the course of time, and how do these aspects reflect what is valued in life? (2) What is meant by the "optimal self," and through which means is this kind of "self" pursued?, and (3) How are wellness and self-branding interconnected, and what is the logic of wellness branding? These themes are investigated through three different theoretical standpoints composed of positive psychology, marketing and consumer research, and sociology. Simultaneously, these standpoints offer three separate lenses (i.e., kaleidoscopes) with which to interpret the phenomenon.

This thesis represents a phenomenon-based research in a highly topical and rapidly changing marketing and consumer phenomenon. Due to its pragmatic nature, as a whole, the thesis applies a mixed-methods approach, but the individual research articles are based on either quantitative or qualitative methodologies. The research articles approach the wellness phenomenon from different perspectives using several datasets and analysis methods. Article 1 discusses wellness in the wellness tourism context by analyzing data collected through semi-structured interviews (n=22) administered to wellness industry representatives in 2013. Articles 2 and 3 address wellness in relation to fitness and meanings of physical activity by analyzing data as part of the large, nationally representative University Student Health Survey (n=4403) collected in 2012. Article 4 discusses wellness from a wider perspective and in relation to self-branding by conducting a series of focus group interviews both in the U.S. and in Finland between 2016 and 2017.

As a synthesis of the theoretical discussions and empirical findings, three main arguments are proposed. First, wellness has evolved from material and mere hedonic to increasingly involve immaterial and eudaimonic approaches—there has been a shift from the pursuit of pleasure to the pursuit of meaning. Second, the ever-increasing need to take care of oneself holistically and to transform oneself toward the optimal state echo the need for finding a balance—balance is the "New Black." Third, the logic of wellness branding encompasses the creation of one's optimal, balanced self while communicating that self to others—wellness branding has become a new means of promoting the optimal self.

The thesis's theoretical contribution focuses on the relatively new research tradition of transformative consumer research (TCR) by reviving Aristotle's ancient, principle ideas—living well, virtues, common good, balance, practical wisdom, and harmony—that are still valid and likely to be more topical than ever before. The thesis also contributes to self-branding literature by discussing wellness as a new means for self-branding. By introducing a concept—wellness branding—not previously addressed in academic literature, the thesis concludes that wellness branding involves branding the good and healthy, true, balanced self.

Managerial implications focus mainly on the changing consumer behavior as well as the various opportunities and challenges offered by digitalization. One of the major challenges regards how to brand products, services, and transformational experiences such that they align with consumers' highly individualistic values and resonate with consumers' authentic, true selves. In the future, the principles of wellness branding are likely to be adopted and employed further in both employer and employee branding. Thus, wellness branding may also facilitate profit for both businesses and their employees in a novel way.

With regard to societal implications, in addition to healthcare and health promotion, wellness practices have become an aspect of educational agendas and corporate wellness programs that maximize employee productivity and decrease the number of health insurance expenditures. Furthermore, wellness has received increasing attention in political discussions. Encouraging individuals to engage in preventative, holistic self-care practices not only promotes individual wellness, but benefits the whole society by decreasing healthcare expenditures.

Finally, regarding future research directions, the combination of ever-increasing digitalization, technological innovations, and novel, more diverse consumer segments entering the market—particularly Gen Z, the first all-digital generation— paves the way for various fascinating research themes.