Structural and interfacial adhesion elements of indirect fiber-reinforsed composite fixed dental prostheses
Lahdenperä, Milla (2019-05-03)
---
Structural and interfacial adhesion elements of indirect fiber-reinforsed composite fixed dental prostheses
(03.05.2019)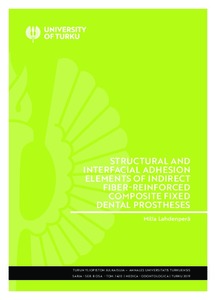 Turun yliopisto
Julkaisun pysyvä osoite on:
https://urn.fi/URN:ISBN 978-951-29-7618-8
Tiivistelmä
Crowns and fixed dental prostheses (FDP) of fiber-reinforced composite (FRC) have opened the potential for fabrication of metal-free dental restorations with direct and indirect techniques. Although direct FRC restorations are gaining popularity over indirect ones, however multiple unit restorations require fabrication in dental laboratories. FRC FDPs are composed of two types of resin composite materials: load-bearing FRC substructure and particulate filler resin composite (PFC) veneering. The objectives of this series of studies were to investigate some structural and interfacial adhesion elements of indirect FRC FPDs. In addition, incorporation of antimicrobial agent chlorhexidine digluconate (CHX) to the FRC and its release from the FRC was also evaluated.

In the first study, interfacial adhesion between E-glass FRC substructure and PFC was investigated by the shear bond strength test. Attempts to improve adhesion by intermediate resin (IMR) with different treatment times were made. Applying the IMR increased the bond strength values of PFC to FRC with multiphase polymer matrix (semiinterpenetrating polymer network of BisGMA and PMMA, IPN). It was also found that the polymer matrix of FRC can be polymerized to a high degree of monomer conversion without deteriorating the bond strength between FRC and PFC. A second study demonstrated that PFC can be better bonded to the FRC substructure with randomly oriented glass fibers than to the continuous unidirectional FRC substructure. A third study analysed the flexural properties and the release of CHX laced unidirectional FRC provisional FPD polymer. Flexural properties of provisional FPD polymer were increased by the addition of FRC, and the CHX was released into water by diffusion from the FRC during the first three weeks. The fourth study aimed to characterize water sorption, flexural properties, bonding properties, and elemental composition of two different photopolymerizable FRC materials (cross-linked and IPN polymer matrix FRC). Differences were found for the percentage of water sorption, but the flexural strength and veneering PFC bonding properties did not show a difference between the materials after 30 days of water storage.

These studies suggest that by using IMRs and randomly oriented glass fiber FRC the interfacial adhesion to PFC can be improved. Furthermore, it was found that FRC prepreg can be loaded with antimicrobial agent CHX, and the diffusion base released into water from the FRC lasted for three weeks.