Expression and role of decorin in human epithelial cancers - with special reference to bladder, colon and vulva carcinomas
Nyman, Marie (2019-05-11)
---
Expression and role of decorin in human epithelial cancers - with special reference to bladder, colon and vulva carcinomas
(11.05.2019)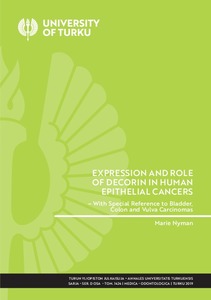 Turun yliopisto
Julkaisun pysyvä osoite on:
https://urn.fi/URN:ISBN:978-951-29-7632-4
Tiivistelmä
Today, the extracellular matrix (ECM) is not only known for its structural role but also for its many functional roles that are critical in the pathogenesis of various diseases including carcinogenesis. This is also true for decorin, an essential proteoglycan of the ECM. Decorin is especially recognized for its potent oncosuppressive activity, e.g. via its ability to bind to and to restrict the expression and activity of various growth factors, growth factor receptors, and receptors of the immune system. However, the expression of decorin and its cellular origin in different malignancies has not been explicitly defined.

In this thesis, the expression and role of decorin in human bladder, colon and vulva carcinomas were examined. The first aim of this thesis was to clarify, whether malignant cells of the above carcinomas express decorin. Next, this thesis aimed to examine the effects of adenovirus-mediated decorin cDNA (Ad-DCN) transduction on the behaviour of carcinoma cell lines in vitro. Finally, potential mechanisms mediating the effects of Ad-DCN transduction on the carcinoma cells were evaluated. Particularly, the effects of Ad-DCN transduction on the ErbB/HER family of receptors were studied.

The results showed that malignant cells of human bladder, colon and vulva carcinomas lack decorin expression in vivo and in vitro. Ad-DCN transduction of the cell lines was shown to potently suppress the malignant behaviour of the cells. Moreover, the results also defined downregulation of ErbB2/HER2 as a potential mechanism leading to decorin provoked oncosuppressive effects on human epithelial cancer cells, specifically on vulva carcinoma cells. In conclusion, the results of this thesis reinforce the relevance of developing novel, decorin-based adjuvant therapies for human epithelial cancers such as bladder, colon and vulva carcinomas.