Electrostatic instrumentation and measurements on powders and powder mixtures
Peltonen, Janne (2019-05-25)
---
Electrostatic instrumentation and measurements on powders and powder mixtures
(25.05.2019)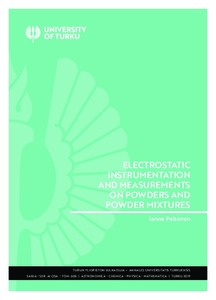 Turun yliopisto
Julkaisun pysyvä osoite on:
https://urn.fi/URN:ISBN:978-951-29-7656-0
Tiivistelmä
In the powder industry, such as the pharmaceutical or chemical industry, powder particles collide frequently with the surrounding surfaces and with other particles and become electrostatically charged in different processes. The charging may cause problems, for example, in powder mixing and conveying. High charge values increase particle adhesion on surfaces. Charged particles may adhere to sensors or production lines of a pharmaceutical plant. In the worst case, even a dust explosion may occur.

The aim of this work was to develop instrumentation for these kinds of processes and to study the charging and electrical resistivity of powders and powder mixtures. The charge and resistivity are the fundamental quantities when electrostatic effects are studied. The charge is a direct measure for the intensity of the electrostatic charging, and the resistivity is related to the dissipation of the accumulated charge.

In the thesis, a method for studying the powder resistivity as a function of humidity was developed. The new method proved to be significantly faster than the traditional steady-state measurements. For instance, the resistivity of a lactose powder was measured in 24 hours with the new one-step method but took four weeks with the traditional method. The electrical resistivity of powder mixtures was also studied. It was observed that the particle size difference of the component materials played an important role in the effective resistivity.

Two induction probes for measuring the charge density of powder in a fluidized bed were developed. The probes were designed using computer simulations, calibrated with frictionally charged spheres, and finally tested in a laboratory-scale fluidized bed. The charging of lactose and salbutamol sulphate was studied at different humidities. The humidity had a special effect on the charging of their mixtures. At low humidities, the mixtures charged negatively. As the humidity was increased, the charge polarity flipped from negative to positive. When the once humidified samples were dried, the polarity did not flip back to negative but remained positive. It was suggested that the small salbutamol sulphate particles adhered to larger lactose particles due to increased capillary forces and remained adhered even if the powder was again dried.

A method for studying the charging of powders on-line during surface adhesion was also developed and used in measurements. The powder was slid in a pipe, and the charge and mass of the transferred powder were simultaneously monitored. With powder mixtures, it was observed that the dominant charging mechanism changed from powder–pipe contacts to powder–powder contacts between the two dissimilar powders quickly after the other powder component started to adhere to the pipe surface.