Evolutionary history of ferns and the use of ferns and lycophytes in ecological studies
Cárdenas Ramírez, Glenda Gabriela (2019-05-20)
---
Evolutionary history of ferns and the use of ferns and lycophytes in ecological studies
Cárdenas Ramírez, Glenda Gabriela
(20.05.2019)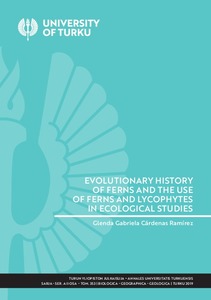 Turun yliopisto
Julkaisun pysyvä osoite on:
https://urn.fi/URN:ISBN:978-951-29-7646-1
Tiivistelmä
Tropical areas represent the region with the highest diversity in the world. In plants, one major radiation having this high diversity is ferns, the sister lineage of seed plants, which, together with lycophytes, another group of free-sporing vascular plants, comprise around 10,500 species in the world. Previous studies in the Neotropics have shown that edaphic conditions, such as nutrient concentration and soil texture, influence fern and lycophyte species diversity, local species composition and geographical distribution patterns. As a consequence, fern and lycophyte species are effective indicators of environmental characteristics of tropical forests. In this thesis, I studied three different aspects of ferns and lycophytes. First, I used ferns and lycophytes as an indicator group for animal behaviour. I explored the relationship between the home range size of three groups of tamarins (Leontocebus nigrifrons I. Geoffroy Saint-Hilaire) and forest productivity at Estación Biológica Quebrada Blanco. For this purpose, I identified the fern and lycophyte species present in the area, and using previous knowledge of their soil fertility preferences, I estimated the soil's fertility within the tamarin home ranges. Contrary to my expectations, the home range size was not always negatively related to soil fertility. The group of tamarins inhabiting the poorest soils always had the biggest home range, but the group inhabiting the richest soils did not consistetly have the smallest home range, as it would be expected. Second, in order to improve the efficiency of ferns as indicator group, I revised the number of taxa present in the Neotropical fern genera Metaxya and Salpichlaena. I did this by combining morphological, molecular, phylogenetic and biogeographical studies. As a result, I delineated the boundaries of the taxa in these genera and described five new species and two subspecies, adding new records to Neotropical biodiversity. Third, I inferred fern phylogenetic relationships based on plastid genomes. Compared to more than 6,000 published plastomes of flowering plants, little is known about fern plastomes. Only around 130 fern plastomes have been published to date, with many important fern lineages completely unsampled. By applying Next-Generation Sequencing techniques, I generated eight new complete fern plastomes and built a phylogenetic hypothesis based on the protein coding regions of the newly produced and previously published plastomes. I was able to identify novel rearreagements in the genome structure revealing a contrasting evolutionary pattern between Polypodiineae and the other fern clades.