CLEAN DISRUPTION FOR ABUNDANT FUTURES : Neo-Carbon Energy Futures Clinique III
Heinonen, Sirkka; Karjalainen, Joni; Parkkinen, Marjukka; Ruotsalainen, Juho (2019-05-21)
---
CLEAN DISRUPTION FOR ABUNDANT FUTURES : Neo-Carbon Energy Futures Clinique III
Heinonen, Sirkka
Karjalainen, Joni
Parkkinen, Marjukka
Ruotsalainen, Juho
(21.05.2019)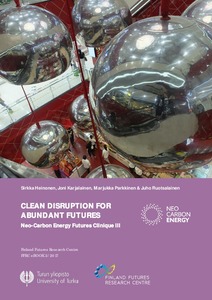 Turun yliopisto. Turun kauppakorkeakoulu
Julkaisun pysyvä osoite on:
https://urn.fi/URN:NBN:fi-fe2019052116244
Tiivistelmä
This report presents the results of an International Symposium "Clean Disruption for Abundant Futures", which was organised as a futures clinique of the Neo-Carbon Energy project and Summer School of the Finland Futures Academy, as well as Helsinki Node's Millennium Forum at Museum of Contemporary Arts Kiasma, Helsinki, June 7–8, 2016.

The two-day futures clinique focused on the topics of energy, internet, clean disruption, new organisation practices and futures of communities. The objective of the event was to address possible fu-tures and related societal transition towards the convergence of energy and internet. In the clinique, abundant futures defines the stance towards futures, as ample resources would be available in such a system. This, in turn, affects social relations and communities of the future.

The clinique generated futures dialogue that consisted of expert lectures, commenting and discus-sion, as well as intermittent working sessions in small groups. The keynote speeches gave input for the group work, where participants probed the abundant futures in six breakout groups. The four transformational scenarios of the Neo-Carbon Energy project were used as material for the groups' foresight work.

This dialogue and elaborations on abundant futures and renewable energy are documented in this report. Four recurring themes can be identified from the group work. Perhaps the most common is the idea of so-called "post-institutional" future of tribal-like communities. Another frequent theme is the change of the concept of work through i.e. automatisation and hybridisation of work and leisure. The third theme describes immaterial values and the significance of meaningfulness. Finally, the fourth theme identified in the results addresses the possible social drawbacks of the future. Conse-quently, the clean disruption for abundant futures is a cornucopia with huge potential, but by no means automatically only beneficial. Critical mindset is needed both for the decision phase and implementation ways of clean disruptive technologies, practices, lifestyles, and regulation.