Future Energy Demand in Laos : Scenario Alternatives for Development
Luukkanen, Jyrki; Kouphokham, Khamso; Panula-Ontto, Juha; Kaivo-oja, Jari; Korkeakoski, Mika; Vehmas, Jarmo; Tuominen, Visa; Jusi, Sari; Pasanen, Tytti; Lakkala, Hanna (2019-05-22)
---
Future Energy Demand in Laos : Scenario Alternatives for Development
Luukkanen, Jyrki
Kouphokham, Khamso
Panula-Ontto, Juha
Kaivo-oja, Jari
Korkeakoski, Mika
Vehmas, Jarmo
Tuominen, Visa
Jusi, Sari
Pasanen, Tytti
Lakkala, Hanna
(22.05.2019)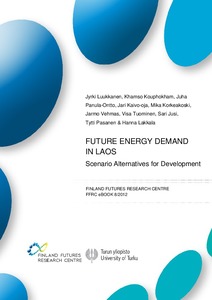 Turun yliopisto. Turun kauppakorkeakoulu
Julkaisun pysyvä osoite on:
https://urn.fi/URN:NBN:fi-fe2019052216487
Tiivistelmä
Energy production in Laos is still dominated by traditional fuels. Fuelwood in the main source of energy and most of the energy is consumed at households for cooking. Increase in the number of cars and motorbikes is rapidly increasing the use of imported petroleum products. Electrification is one of the central targets of the Lao government. The electrification rate has increased fast in Laos and in the year 2010 over 70 % households had electricity supply. The target is to have 90 % access to electricity by the year 2020. The World Bank regards the electrification of Lao PDR to be a success story (World Bank 2012). This paper deals with the present and future energy consumption in Laos. First the historical trends of energy use in different sectors are analysed. The future scenarios are constructed using LaoLinda model. Four different future alternative development paths are analysed using the model results. The energy use data source for the analysis is from the Ministry of Energy and Mines (MEM) of Lao PDR. Economic and other data is from the Department of Statistics of Lao PDR.