Hearing Loss, Balance Problems and Molecular Defects in Osteogenesis Imperfecta : A Nationwide Study in Finland
Kuurila, Kaija (2003-12-05)
---
Hearing Loss, Balance Problems and Molecular Defects in Osteogenesis Imperfecta : A Nationwide Study in Finland
(05.12.2003)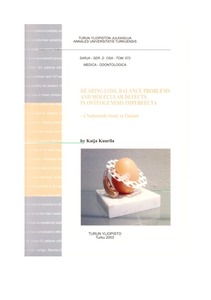 Turun yliopisto
Julkaisun pysyvä osoite on:
https://urn.fi/URN:ISBN:951-29-2526-5
Tiivistelmä
ABSTRACT:

Hearing loss, bone fragility and blue sclerae are the principal clinical features in Osteogenesis imperfecta (OI), a genetic disorder mostly caused by mutations in type I collagen genes COL1A1 and COL1A2. Different mutations partially explain the interindividual and intrafamilial variability of the disease.

In this nationwide study on hearing in OI, 299 Finnish patients with OI were ascertained (prevalence 5.74/100 000). Of the 183 patients with audiometric evaluation, 46 were children and 137 were adults.

Hearing loss may already be present in childhood. We found hearing loss in three children. Subjective misjudgment of hearing ability was observed in almost 20% of adult patients. Hearing loss was found in 58% of adults. It affects patients with all types of OI, but tends to be more common in OI types I and III than in OI type IV. Sensorineural hearing loss, especially at an early age, may be more common in OI type I. Because the early detection and treatment of hearing loss is important to avoid aggravation of physical handicap, audiometry should be performed in all OI patients at the age of 10 years and repeated every third year thereafter. Vestibular dysfunction is common in OI. Inner ear damage appears to be the main reason for vertigo. Occasionally, vertigo is caused by basilar impression (BI), a craniocervical complication affecting up to 25% of OI adults. Still, some OI patients without BI or hearing loss also suffer from vertigo.

Results of 43 middle ear operations were evaluated. The surgical anatomy in OI differs from otosclerosis especially by thick and vascular mucosa with excessive bleeding tendency, and elastic, fractured or atrophic stapes crura. These anatomical peculiarities cause technical problems, and a prerequisite for successful surgery is a correct preoperative differential diagnosis of OI-related hearing loss and otosclerosis. Furthermore, the hearing gain appears to be better after surgery centralized in units with a larger annual number of operations and more experienced surgeons.

Mutations in COL1A1 or COL1A2 were found in 49 unrelated patients, representing the molecular genetic background of 41.1 % of the Finnish OI population. Mutation type is associated with OI type, while null allele mutations most often produce OI type I, and single base substitutions resulting in glycine substitutions in proa2(I) tend to produce OI type I and IV. Neither the mutated gene nor the type of mutation correlated with the presence, type or severity of hearing loss. The hearing loss in OI apparently is a result of multifactorial, yet unknown genetic and environmental effects.