History education for nation-building in exile : The case of Tibetan refugee schools in India
Wangdu, Kalsang (2019-06-27)
---
History education for nation-building in exile : The case of Tibetan refugee schools in India
(27.06.2019)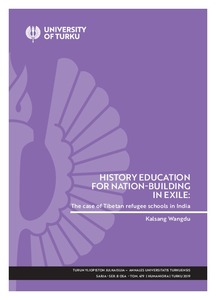 Turun yliopisto
Julkaisun pysyvä osoite on:
https://urn.fi/URN:ISBN:978-951-29-7693-5
Tiivistelmä
History education is often deemed essential to the construction of national identity and to the project of nation-building. History teaching, in particular, serves to promote and legitimize a certain category of historical knowledge as the official knowledge and participates in the reproduction of the existing social relationships. However, the issue of how sub-nation groups like refugee communities construct their ethnonational identity and the image of their historical legacy via the teaching of history is an understudied one. As such, this research examines role history teaching plays in engendering a collective national identity for the Tibetan refugee children in India. By employing critical discourse analysis of the history textbooks of the Tibetan refugee schools and thematic analysis of semi-structured interviews held with fifteen history teachers, this study analyzes the key features of nation-building project of the Tibetan exiles and how it manifests itself in the curricular and pedagogical practices of history education.

The findings of the research show that the teaching of history in the Tibetan refugee schools carries an overriding burden of political and cultural agenda. The discursive repertoires present in the textbooks construct an image of a lost homeland for the young Tibetans born in exile and offer them a victimized subject position. The results also indicate that the history education is deployed to subvert the dominant Chinese colonial narrative on Tibetan history and Sino-Tibetan relationships, and to reveal the colonial nature of the Chinese rule in Tibet. Yet it fails to question the traditional power structure of the Tibetan society. In stark contrast, it perpetuates the dominant Buddhist narrative of Tibetan history. Therefore, it is reasoned that the deployment of critical and decolonial pedagogy in the teaching of history is selective and is guided primarily by political motivations rather than by its interest in questioning power and domination.

Based on the findings of this research, it is argued that refugees and other communities in diaspora generally live in a vulnerable socio-political climate where the use of history for the construction of a collective ethno-national identity is more pertinent and urgent. Under such a scenario, the disciplinary goals of the teaching of history remain subservient to the pursuit of nationalist goals. It is also argued that India's pluralistic and flexible system of education, which allowed the Tibetan refugees to develop a mother-tongue based schooling with a culturally-relevant curriculum, provides an interesting model that can potentially benefit multicultural countries in addressing the question of diversity and representation in education.