Consequences of photoinhibition of photosystem I on photosynthetic electron transport and carbon metabolism
Lima-Melo, Yugo (2019-06-28)
---
Consequences of photoinhibition of photosystem I on photosynthetic electron transport and carbon metabolism
(28.06.2019)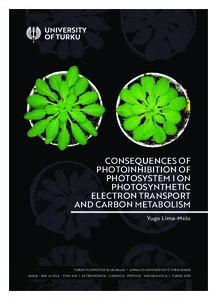 Turun yliopisto
Julkaisun pysyvä osoite on:
https://urn.fi/URN:ISBN:978-951-29-7715-4
Tiivistelmä
Photosynthesis allows plants to store light energy in organic compounds. Plants have an efficient apparatus to harvest photons from sunlight and use the energy to split water and transport electrons to specific high-energy electron acceptors. A proper balance between light reactions and electron consumption is important to maintain fluent photosynthetic activity during environmental conditions that are constantly changing. At the same time, photosynthetic components are protected through several regulatory mechanisms. The avoidance of damage to photosystem I (PSI) is particularly important because its recovery occurs extremely slowly as compared to that of photosystem II (PSII). Studies on damage, photoinhibition and recovery of PSI are scarcer than those of PSII. In this thesis, the occurrence of photoinhibition of PSI and some of its consequences to the plant metabolism were investigated. Arabidopsis thaliana L. plants lacking the PROTON GRADIENT REGULATION 5 protein (pgr5 mutants) that were treated with excess light were used as a model system for controlled PSI-photoinhibition. This experimental model was validated, and the impact of PSI photoinhibition and recovery on photosynthetic electron transport, primary metabolism, reactive oxygen species (ROS) production and chloroplast retrograde signalling were thoroughly characterised. The results highlight that PSI photoinhibition induces impairment of CO2 fixation, starch accumulation, and dark respiration. The recovery of PSI function after photoinhibition proved to be dependent on light conditions, being especially deleterious for CO2 fixation under low irradiances, and supporting the idea that a pool of surplus PSI can be recruited to support photosynthesis under demanding conditions. High light-treated pgr5 mutants also displayed low occurrence of lipid oxidation associated with attenuated enzymatic oxylipin synthesis and consequent chloroplast regulation of nuclear gene expression. This model also showed that PSI photoinhibition prevents oxidative stress and accumulation of ROS, evidencing a role of PSI inactivation in avoiding over-reduction of downstream redox components.