Thermal relations and molecular measures in salmonidae gene expression
Lewis, Mario (2019-06-27)
---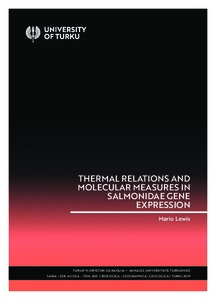 Turun yliopisto
27.06.2019
Julkaisun pysyvä osoite on:
http://urn.fi/URN:ISBN:978-951-29-7721-5
Tiivistelmä
Arctic, boreal and temperate latitudes are characterised by conspicuous shifts in photoperiod and temperature, which restricts ecosystem productivity and compels resident taxa to anticipate and coordinate physiological processes to the cyclic variability of environmental conditions. The increase in temperature of high latitude habitats due to climate change is likewise complicit in asserting a progressive phenological incongruence between photoperiod and temperature, the repercussions of which on circadian and seasonal rhythms remain veiled in uncertainty. An organism's capacity to physiologically adjust to a changing environment relies upon the induction of gene expression programmes quantifiable through steady-state mRNA level, which has long served as a proxy for transcription and functional inferences in ecophysiological studies, although it is ultimately determined by the integrated processes of nuclear transcription and nucleocytoplasmic degradation. There is consequently an inadequate appreciation of upstream and downstream regulatory elements that finely control gene expression. Pursuant to these considerations is the molecular regulation of heat shock proteins, which presents a suitable system to evaluate temperature inducible gene expression and the thermal and temporal relations in transcription, steady-state mRNA level and translation upon temperature acclimation and heat shock of ecologically and economically valuable salmonids. The studies comprising this thesis revealed temperature acclimation manifests in the alteration of whole organism upper thermal tolerance and ventricle morphology (I), which at the cellular level involved modifications to inducible hsp70 expression during chronic and acute temperature exposure (II). Although not directly measured, evidence for post-transcriptional regulation in the acclimation process and hsp70 expression is presented and discussed (II & III), whilst gaining fundamental insights in the final study (IV) assessing the effect of elevated temperature on gene transcription and its temporal relationship with steady-state mRNA level in a thermally sensitive salmonid at the forefront of climate change effects. These studies provide a detailed perspective on the capacity of salmonids to acclimate to novel habitat temperatures, and the potential practical application of molecular level measures that could be beneficial in the management and conservation of vulnerable wild and domesticated fish populations.