A Scenario for the desirable future of the Peruvian agrifood sector 2030, focusing on Andean native crops : results from the 1st and 2nd futures workshops of the PECOLO project
Lakkala, Hanna; Birmoser Ferreira-Aulu, Marianna; Del Carpio Rodríguez, Ahmed Omar; Kaskinen, Juha; Morales-Soriano, Eduardo; Repo-Carrasco-Valencia, Ritva; Vargas Delgado, Luis Fernando; Vidaurre-Ruiz, Julio; Vähäkari, Noora (2019-08-12)
---
A Scenario for the desirable future of the Peruvian agrifood sector 2030, focusing on Andean native crops : results from the 1st and 2nd futures workshops of the PECOLO project
Lakkala, Hanna
Birmoser Ferreira-Aulu, Marianna
Del Carpio Rodríguez, Ahmed Omar
Kaskinen, Juha
Morales-Soriano, Eduardo
Repo-Carrasco-Valencia, Ritva
Vargas Delgado, Luis Fernando
Vidaurre-Ruiz, Julio
Vähäkari, Noora
(12.08.2019)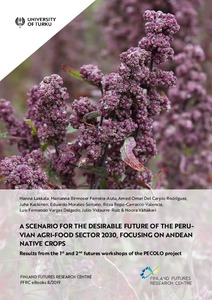 Turun yliopisto. Turun kauppakorkeakoulu
Julkaisun pysyvä osoite on:
https://urn.fi/URN:ISBN:978-952-249-524-2
Tiivistelmä
The Andean region is exceptionally rich in biodiversity, harbouring an important centre of domestication of global food crops, such as potato, quinoa, corn, peanut and tomato. Such biodiversity provides a great potential to discover or, reintroduce, nutritionally rich local varieties and utilize them to develop innovative food applications. Utilization of native plant crops provide promising solutions to address the wider sustainability goals, such as rediscovering crops more resilient to the changing climate and providing local source of nutritious food. Diversification of the local diets with local grains enables better nutrition and can also contribute to food security in areas where food production is threatened by climate change.

'Native crops for sustainable and innovative food futures in Peru and Colombia (PECOLO)' is a collabo-ration project between University of Turku, Finland (UTU), Universidad Nacional Agraria La Molina, Peru (UNALM) and Universidad el Bosque, Colombia (UEB). From UTU, Finland Futures Research Centre (FFRC) of University of Turku coordinates the project. In addition, Functional Foods Forum and Department of Biochemistry of University of Turku participate in the project.

The PECOLO project has a special focus on the development of innovation environments around Andean native crops. Futures research and foresight methodologies are used as novel tools for developing innovation environments in cooperation with academic, public and private sector organizations and NGOs.
In addition to the development of innovation environments, the project has capacity-building and mobility components in specialized topics in food science such as nutrition and functional foods, and in sustainability issues along the food value chain, such as environmental impacts of food production, sustainable diets and food waste and loss.

This publication is the first of the two publications for Peru that will be published as an outcome of the PECOLO project's four step futures process around Andean native crops. The publication covers the methods and the results of the 1st workshop, which focused on horizon scanning of the current state of the agri-food sector, as well as the methods and the results of the 2nd workshop, which focused on development of scenarios for the Peruvian agri-food sector with a special focus on Andean native crops.

The second PECOLO publication (published later in 2019) will present the roadmaps and action plans for the agri-food sector stakeholders in Peru and Colombia.