Diagnosis and treatment of obstetric anal sphincter injuries
Kirss, Jaan Jr. (2019-09-13)
---
Diagnosis and treatment of obstetric anal sphincter injuries
(13.09.2019)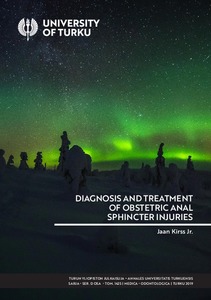 Turun yliopisto
Julkaisun pysyvä osoite on:
https://urn.fi/URN:ISBN:978-951-29-7635-5
Tiivistelmä
Aims: The aims of this study were to identify the risk factors for a failed primary repair of obstetric anal sphincter injury (OASI), to determine whether external phased-array magnetic resonance imaging (MRI) is suitable for the diagnosis of residual obstetric anal sphincter injury (ROASI), and to evaluate the effectiveness of sacral neuromodulation (SNM) for the treatment of faecal incontinence (FI) in women with a history of OASI.

Patients and Methods: A total of 60 women with a history of OASI were analysed for factors influencing the failure of primary sphincter repair. Forty women who had been diagnosed with OASI underwent both MRI and three-dimensional endoanal ultrasound (3D EAUS) imaging 6–8 months postpartum. The results from these imaging studies were analysed. Data of all patients tested for SNM in Finland was gathered, patients with FI as the indication for SNM treatment were further analysed.

Results: The risk factors for a failed primary sphincter repair were repairs executed by inexperienced personnel (p<0.001), or during on-call hours (p=0.039), end-to-end suturing of the external anal sphincter (p=0.030), and failure to prescribe antibiotics and laxatives (p<0.001). External phased-array pelvic MRI is comparable to 3D EAUS in detecting external anal sphincter (EAS) lesions (=0.510). SNM treatment outcomes were more successful in patients with obstetric FI, compared to patients with other types of FI (p=0.012). The presence of a sphincter lesion or previous
sphincter repair had no effect on the SNM treatment outcome (p=0.425).

Conclusions: There were clear risk factors that can affect the outcome of the primary repair of OASI. ROASI can be successfully imaged by external phased-array MRI. SNM treatment outcomes of patients with ROASI were comparable if not better than outcomes in patients with other causes of FI. A patent sphincter defect or previous sphincteroplasty (SP) had no effect on SNM treatment outcomes.