Educating innovative professionals : a case study on researching students' innovation competences in one Finnish University of Applied Sciences
Keinänen, Meiju (2019-08-31)
---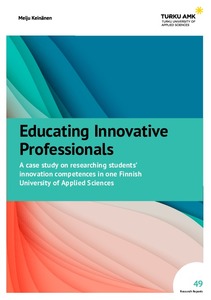 Turku University of Applied Sciences
31.08.2019
Julkaisun pysyvä osoite on:
http://urn.fi/URN:ISBN:978-952-21-6725-5
Tiivistelmä
This dissertation study focuses on students' innovation competences in higher education. The aim of the research is to present assessment tools to measure students' innovation competences, test and evaluate them in practice, and examine students' innovation competences in innovative learning environments at the course and degree levels. The study has been implemented as a case study at one Finnish university of applied sciences, where innovation competences have been set as learning targets for all students in its pedagogical strategy, which is called innovation pedagogy. The research includes four independent sub-studies using mixed research methods. The first study tests and evaluates the functioning of the earlier developed model measuring students' innovation competences (n=495). The second study supplements the first study, and evaluates and uses a further developed instrument in the innovative courses using students' group interviews (approx. 30 students) and self-assessments (n=69). The third study examines students' perceptions of learning innovation competences during the courses (n=77), and the fourth study (n=236) approaches students' innovation competences and their associations with students' study experiences of learning environments based on innovation pedagogy at the degree level. The dissertation study shows that innovation competence can be assessed, learned and supported already in higher educational environments. There were no differences in the learning of innovation competences by gender, study year, work experience, or course. Instead, certain individual and environmental factors, especially students' motivation, the importance of learning, and the atmosphere of the course, are related to the learning of innovation competences. The results also show that students' study experiences of learning environments based on innovation pedagogy play a significant role in the level of their innovation competences at the degree level. The students who have more experience on studying in different learning environments of innovation pedagogy assessed their innovation competences higher than those students who have less experience. All the six cornerstones of innovation pedagogy: activating learning and teaching methods; multidisciplinary learning environments; working life orientation and RDI integration; flexible curricula; entrepreneurship and internationalization, are associated with the students' innovation competences. However, innovation pedagogy demands plenty of work to be visible in practice. During their 3–4 years of study, the students did not have many experiences studying in learning environments based on innovation pedagogy. Overall, this dissertation suggests that higher education institutions have a meaningful role in training innovative professionals, but special consideration should be placed on developing innovative learning environments.
Key words: innovation competence, assessment, learning environment, higher education pedagogy
Väitöskirjatutkimuksen aiheena on korkeakouluopiskelijoiden innovaatiokompetenssit. Tutkimuksen tavoitteena on esitellä arviointityökaluja opiskelijoiden innovaatiokompetenssien mittaamiseen, testata ja arvioida niitä
käytännössä sekä tutkia opiskelijoiden innovaatiokompetensseja innovatiivisissa oppimisympäristöissä opintojakso- ja tutkintotasolla. Tapaustutkimus on toteutettu eräässä suomalaisessa ammattikorkeakoulussa, jossa innovaatiokompetenssit ovat oppimistavoitteina kaikilla opiskelijoilla osana pedagogista strategiaa, innovaatio-pedagogiikkaa. Monimenetelmällinen tutkimus kostuu neljästä itsenäisestä osatutkimuksesta. Ensimmäinen tutkimus testaa ja arvioi aiemmin kehitetyn mallin toimivuutta opiskelijoiden innovaatiokompetenssien mittaamisessa (n=495). Toinen tutkimus täydentää ensimmäistä tutkimusta, arvioimalla ja käyttämällä uudempaa työkalua innovatiivisilla opintojaksoilla hyödyntäen opiskelijoiden ryhmähaastatteluja (n. 30 opiskelijaa) ja itsearviointeja (n=69). Kolmas tutkimus tutkii opiskelijoiden käsityksiä innovaatiokompetenssien oppimisesta opintojaksojen aikana (n=77). Neljäs tutkimus (n=236) tarkastelee innovaatiokompetensseja ja niiden yhteyttä opiskelijoiden opiskelukokemuksiin innovaatiopedagogiikan oppimisympäristöistä tutkinnon aikana. Väitöstutkimus osoittaa, että innovaatiokompetensseja voidaan arvioida, oppia ja tukea korkeakouluympäristöissä. Sukupuoli, opiskeluvuosi, työkokemus tai opintojakso ei ole yhteydessä innovaatiokompetenssien oppimiseen, mutta tietyt yksilölliset ja ympäristölliset tekijät, etenkin opiskelijan motivaatio, oppimisen tärkeys ja ilmapiiri
opintojaksolla, näyttävät yhdistyvän oppimiseen. Tulokset myös osoittavat, että opiskelijoiden tutkinnonaikaisella opiskelukokemuksella innovaatiopedagogiikan oppimisympäristöistä on yhteys opiskelijoiden innovaatio-kompetensseihin. Opiskelijoilla, joilla oli enemmän kokemusta kyseisistä ympäristöistä arvioivat innovaatio-kompetenssinsa korkeammalle kuin ne opiskelijat, joilla kokemusta oli vähemmän. Lisäksi kaikki kuusi innovaatiopedagogiikan oppimisympäristöihin liittyvää kulmakiveä: aktivoivat oppimis- ja opetusmenetelmät; monialaiset oppimisympäristöt; työelämälähtöisyys ja TKI-integraatio; joustava opetussuunnitelma; yrittäjyys ja kansainvälisyys, ovat yhteydessä opiskelijoiden innovaatiokompetensseihin. Innovaatiopedagogiikan näkyväksi tekeminen vaatii kuitenkin paljon työtä. Kolmen-neljän vuoden aikana opiskelijoilla ei ollut paljonkaan kokemusta innovaatiopedagogiikan mukaisista oppimisympäristöistä. Tutkimuksen mukaan korkeakoululaitoksilla on tärkeä rooli innovatiivisten ammattilaisten kouluttamisessa, mutta erityistä huomiota tulee kiinnittää innovatiivisten oppimisympäristöjen kehittämiseen.
Avainsanat: Innovaatiokompetenssi, arviointi, oppimisympäristö, korkeakoulupedagogiikka