Immunology of bladder cancer
Tervahartiala, Minna (2019-09-20)
---
Immunology of bladder cancer
(20.09.2019)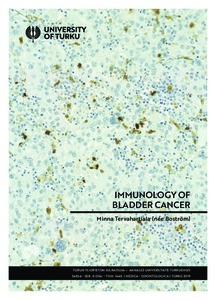 Turun yliopisto
Julkaisun pysyvä osoite on:
https://urn.fi/URN:ISBN:978-951-29-7743-7
Tiivistelmä
Bladder cancer (BC) is a highly prevalent disease with wide variety in outcome. Non-muscle invasive tumors have good prognosis but are prone to recur and, furthermore, have a major risk of progression. Muscle-invasive disease has significantly poorer survival with high mortality. Due to the high recurrence rate of the disease, BC is one of the most expensive cancers to treat.

The aim of the present study was to investigate the roles of the immunological biomarkers in BC. Macrophage markers CD68, MAC387, and CLEVER-1 were evaluated as prognostic factors in BC. Muscle-invasive bladder cancer patients receive neoadjuvant chemotherapy before definitive surgery and the predictive role of the biomarkers in neoadjuvant treated patients was also investigated. In addition, the prognostic role of CD73 in different cellular components of bladder tumors was studied.

The results of the study show, that tumor-associated macrophages associate with poor outcome in BC. In contrast, CLEVER-1 positive vessels show protective role in BC. MAC387 and CLEVER-1 are predictive biomarkers in neoadjuvant treated patients. CD73 has also a prognostic role in BC. However, the expression of CD73 varies greatly between different cellular components.

As conclusion, CD68, MAC387, CLEVER-1, and CD73 have prognostic and predictive role in BC. Macrophage markers are potential prognostic biomarkers in BC. MAC387 and CLEVER-1 could separate the patients who would benefit from neoadjuvant chemotherapy from patients who might suffer from delayed operation and toxicity without the benefit from the neoadjuvant treatment. CD73 has a prognostic role in BC, but it is important to investigate the expression in different cells and not to draw conclusions based on the expression status only on one cell type in the tumor. New questions about immunological factors in BC arise from the study and new studies are needed to validate the results.