SNF1-related protein kinases : activation, responses to osmotic stress, and cuticle formation
Punkkinen, Matleena (2019-09-06)
---
SNF1-related protein kinases : activation, responses to osmotic stress, and cuticle formation
(06.09.2019)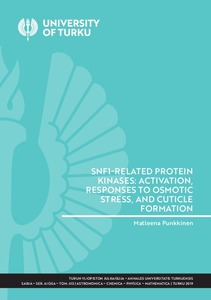 Turun yliopisto
Julkaisun pysyvä osoite on:
https://urn.fi/URN:ISBN:978-951-29-7759-8
Tiivistelmä
Plants regulate their responses to changing environmental conditions to cope with stresses and survive under natural growth habitats. Growth and stress responses must be strictly balanced to prevent poor survival and compromised growth. The network of stress responses to various biotic and abiotic stressors is vast, interconnected, and includes multiple levels of regulation.

Protein kinases play important roles in stress signalling as catalysts of phosphorylation, a modification that allows for a convenient way of rapidly adjusting protein functions. SNF1-RELATED PROTEIN KINASEs (SnRKs) are a central kinase superfamily that is involved in stress responses and energy balance in plants. The aim of my doctoral thesis was to investigate the roles of SnRKs in various signalling pathways. This included information about how SnRKs are regulated by upstream elements and potential subunits, how their activities could be manipulated chemically, and whether they are involved in regulation of cuticle formation.

SnRKs were studied by measuring their kinase activities, by analysing the expression levels in various conditions, including drought and salt stress, by characterisation of several signalling mutants, and by modelling of the interaction between SnRK2.6 and other molecules. The activities of SnRK2s were influenced in vitro by KIN GAMMA (KING) proteins, which had been previously identified as putative regulators of signalling related to abscisic acid (ABA). ABA is a plant hormone that is involved in plant development and stress responses. My studies suggested that KINGs are probable negative regulators of ABA signalling also in vivo, although their effects on SnRK2s remained less clear. A potential activator of ABA signalling, pladienolide B, activated SnRK2.6. This information is useful for further studies of the functions of SnRK2s, or for enhancing stress tolerance of plants. In addition to the research on regulation of SnRK2s, their downstream signalling pathways were investigated in regards to cuticle formation. The ABA-dependent regulation pathway of cuticle formation was found to deviate from the main ABA signalling pathway at SnRK2s. In addition to SnRK2s, regulators of other members of the SnRK superfamily were also examined. GEMINIVIRUS REP-INDUCING KINASEs (GRIKs), previously identified as upstream regulators of SnRK1s, showed a capacity to phosphorylate a member of the third SnRK family (SnRK3s) in vitro. In vivo experiments also showed that GRIKS are involved in NaCl tolerance.

The results of this thesis clarified several functions of SnRKs in plant stress signalling. The knowledge of the induction and regulation of stress responses in plants is valuable for the breeding of economically important plants, e.g. stress-tolerant crops.