Precursors to a 'Good' Bioeconomy in 2125 : Making Sense of Bioeconomy & Justice Horizons. First Foresight Report of the BioEcoJust Project
Taylor, Amos; Balcom, Raleigh; Nicolas, A; Kurki, Sofi; Birmoser Ferreira-Aulu, Marianna; Wilenius, Markku (2019-08-23)
---
Precursors to a 'Good' Bioeconomy in 2125 : Making Sense of Bioeconomy & Justice Horizons. First Foresight Report of the BioEcoJust Project
Taylor, Amos
Balcom, Raleigh
Nicolas, A
Kurki, Sofi
Birmoser Ferreira-Aulu, Marianna
Wilenius, Markku
(23.08.2019)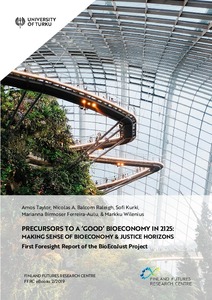 Turun yliopisto. Turun kauppakorkeakoulu
Julkaisun pysyvä osoite on:
https://urn.fi/URN:ISBN:978-952-249-521-1
Tiivistelmä
The Bioeconomy today is a field full of promise, brimming with potentially transformative solutions, and developments still only in their infancy. The aim of this report has been to convey the findings of the BioEcoJust foresight research to date, and especially to highlight the core critical thinking involved in approaching the future of the bioeconomy for the next 100 years.
The BioEconomy and Justice (BioEcoJust) is funded by the Academy of Finland BioFuture 2025 programme and aims to develop a future-oriented ethical and justice framework useful in assessing long-term bioeconomy developments. The consortium has two research teams, representing Practical Philosophy (Aalto University) and Futures Studies (University of Turku).