Cholinergic system in sequelae of traumatic brain injury
Östberg, Anna (2019-10-11)
---
Cholinergic system in sequelae of traumatic brain injury
(11.10.2019)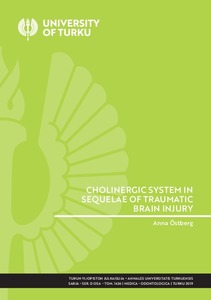 Turun yliopisto
Julkaisun pysyvä osoite on:
https://urn.fi/URN:ISBN:978-951-29-7707-9
Tiivistelmä
Background: Traumatic brain injury (TBI) is one of the most significant causes of disability and lowered capacity. TBI cause also a considerable financial burden since the majority of patients are young at the time of injury. Though much scientific work has been conducted, the pathophysiological mechanisms behind the sequelae of TBI are still largely unknown. However, there is evidence emerging from experimental and clinical studies that the cholinergic system seems to be at least partly involved in the cognitive impairment associated with TBI. In the TBI aftermath, patients commonly experience problems with attention, initiative and processing speed, i.e. functions which are mainly regulated by the cholinergic system. Additionally, in particular there are indications that the structures containing acetylcholinecontaining neurons are commonly injured in TBI. Furthermore, there is preliminary evidence that at least some TBI patients may benefit from cholinergic medication.

Aims of the study: Our aim was to utilize positron emission tomography (PET) and magnetic resonance imaging (MRI) to evaluate possible alterations in the cholinergic system after TBI. An additional goal was to clarify the association of these structural or functional changes to the patient's response to cholinergic medication. Patients with moderate-to-severe TBI were compared to healthy controls with PET using the [11C]MP4A tracer. MP4A targets acetylcholinesterase (AChE), which is the pre- and post-synaptic acetylcholine degrading enzyme. The TBI patient group was divided into two depending on their response to rivastigmine (inhibitor of AChE) treatment. These patient groups were imaged with MP4A-PET at baseline (without medication) and after 4 weeks of rivastigmine therapy to compare differences in AChE activity. Cholinergic structures were also investigated with atlas-based MRI morphometry. It was also examined whether the atrophy rates of frontal cholinergic structures were associated with neuropsychological tests results. The subjects filled in a questionnaire to determine whether their smoking histories had any connection to the outcome of TBI.

Results: The AChE activity in TBI patients was clearly lowered in cortical regions when compared to controls. Most significantly, AChE activity was reduced in parieto- and occipital-cortices. A comparison of the two TBI patient groups in the primary time point scan showed evidence of lowered AChE activity in frontal cortical structures in rivastigmine responders. However, the inhibitory effect of rivastigmine on AChE activity was similar with patient groups when scanned during drug therapy and there was no longer any significant difference between groups in their AChE activities. MRI morphometry revealed that the higher the atrophy rate in frontal cortical structures, the poorer the performance in neuropsychological tests measuring attention. Smoking history was not associated with TBI outcome.

Conclusions: According to the results of this study, it appears that the cholinergic system is altered chronically after TBI. It also seems that these structural alterations and the consequential functional changes in the cholinergic system are connected to the response to cholinergic medication. Additionally, the atrophy rate of frontal cortical structures, which are mainly innervated by cholinergic neurons, appears to have correlation to neuropsychological performance concerning attention. There did not seem to be any link between smoking and TBI outcome.