Populism in the hybrid media system : populist radical right online counterpublics interacting with journalism, party politics, and citizen activism
Hatakka, Niko (2019-10-05)
---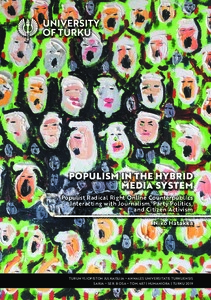 Turun yliopisto
05.10.2019
Julkaisun pysyvä osoite on:
http://urn.fi/URN:ISBN:978-951-29-7793-2
Tiivistelmä
Media systems of the 21st century have been described as "hybrid", referring to flows of information being increasingly disseminated, circulated, consumed, and interacted with in overlapping publics at various times by multiple actors with multiple voices. This research describes how the hybridisation of the media system affects populism as a political logic of articulation and how we should take this into consideration when researching populism as a political communication phenomenon. The main research question relates to the interconnection between populism as a logic of articulating a chain of equivalence and the hybrid media environment in which populist communication is being performed and reacted to by multiple actors with various agendas: What does it mean for the articulation of "the people" when anybody can speak or be perceived to speak in its name?
The research uses a discourse-theoretical approach to analyse mediated interactions between populist-party representatives, journalists, and citizen activists pertaining to populist radical right communication taking place in online counterpublics. The study's main argument is that the logics of the hybrid media system affect what populist political communication ends up articulating – thus having an effect also on the form and viability of populist movements as a means for political change. The research arrives at four main conclusions. First, due to the hybridisation of the media system, it would be analytically beneficial to regard populist political communication as technologically, organisationally, ideologically, and stylistically hybrid. Second, out of the heterogeneous populist political communication emancipated by online counterpublics, it is likely that its least-appreciated elements will become the defining characteristic of affiliated organisational vehicles in mainstream publics. Third, public scrutiny arising from party organisations being affiliated with extreme online communication is most efficiently deflected by populist leaders by heightening the boundary of difference between the people and the elite. As the logics of the hybrid media system will make populist chains of equivalence brittle unless populist leaders adopt confrontational strategies for responding to critique, thus fourth, populist parties tend to gravitate towards becoming normalising agents for reciprocal antagonism and antipluralism. This makes populist logic less conducive to being a corrective for democracy.
The thesis consists of four research articles and a theoretical introduction that engages in depth with literature on populism, its relationship with media, and the role of online publics in facilitating political action. The four sub-studies investigate populist radical right online communication and different actors' reactions to it in Finland, Sweden, and the UK, but the focus of the introduction is on the Finnish case. The first article analyses social media as platforms for populist remediation of political news. The second article compares populist parties' media strategies for responding to racism accusations related to online hate speech. The third article discusses the political consequences and the necessary discursive negotiation caused by populist-party organisations trying to mobilise resources created in controversial online communities. And the fourth article investigates networked civic monitoring of online populist radical right counterpublics.
Tutkimus käsittelee populismin logiikkaa mediajärjestelmässä, jossa perinteinen eliittivetoinen tiedonvälitys on kietoutunut monien käsissä olevaan verkkoviestintään. Tutkimus esittää diskurssiteoreettisella otteella, miten viestinnällinen vuorovaikutus nykyisessä mediaympäristössä vaikuttaa puolueiden pyrkimyksiin kerätä laajaa joukkoa erilaisia yhteiskunnallisia vaateita yhteisten populististen merkitsijöiden ja poliittisten tunnusten taakse. Populistisen verkkoviestinnän sisältöjen sijaan tutkimus keskittyy eri toimijoiden vuorovaikutukseen, jonka kautta verkon populistisen viestinnän katsotaan vasta muodostavan käsityksiä populistipuolueista: Miten populististen liikkeiden edustama "kansa" määrittyy, kun kuka tahansa voi puhua tai tulla kuulluksi sen äänellä?
Väitöskirja koostuu johdanto-osuudesta ja neljästä julkaistusta tutkimusartikkelista. Suomea, Ruotsia ja Iso-Britanniaa käsittelevissä osatutkimuksissa tarkastellaan verkkovälitteistä populistista viestintää ja siihen reagointia. Ensimmäisessä artikkelissa tarkastellaan poliitikkojen tapoja jakaa ja kehystää uudelleen journalismia osana populistista viestintää sosiaalisessa mediassa. Toisessa artikkelissa tarkastellaan populistipuolueisiin liitetyksi tulevan verkkovälitteisen viestinnän synnyttämiä rasismikohuja ja erityisesti sitä, miten puolueiden edustajat vastaavat näihin kohuihin valtavirran mediassa. Kolmannessa artikkelissa tarkastellaan puoluejohdon suhdetta puolueen hyödyntämään kiistanalaisen verkkoyhteisöön, ja erityisesti sitä, miten puoluejohdon tapa käsitellä julkisuudessa puolueen ja verkkoyhteisön suhdetta vaikuttaa verkkoaktivistien sitoutuneisuuteen. Neljännessä artikkelissa tarkastellaan oikeistopopulististen vastajulkisuuksien verkkovälitteistä kansalaislähtöistä valvontaa ja vastustusta.
Tutkimuksen pohjalta esitetään neljä päähavaintoa. Ensinnäkin, nykyisessä mediajärjestelmässä populistista viestintää olisi analyyttisesti järkevä pitää luonteeltaan teknologisesti, organisatorisesti, ideologisesti, ja tyylillisesti sekamuotoisena. Toiseksi, samalla kun verkon vastajulkisuudet vapauttavat monimuotoista populistista viestintää, ne altistavat sen äärimmäisimpiin muotoihin liitetyiksi tulevia poliittisia toimijoita valvonnalle ja kritiikille. Tutkimus osoittaakin, kuinka nykyisen mediajärjestelmän logiikat korostavat populistisen viestinnän kaikkein kiistanalaisimpia tapoja esittää "kansan" ja "eliitin" jännitteistä suhdetta. Kolmanneksi, populististen puolueiden on tehokkainta vastata kiistanalaisten piirteidensä korostumiseen laventamalla diskursiivista kuilua "kansan" ja "eliitin" välillä. Ja tästä johtuen neljänneksi, populismin logiikkaa on vaikea hyödyntää nykyisessä mediajärjestelmässä sillä oletuksella, että sen kautta mobilisoituva liike pysyisi rakentavana väylänä perusteltujen yhteiskunnallisten vaateiden täyttämiseksi.