Education and inequality in digital opportunities : differences in digital engagement among Finnish lower and upper secondary school students
Kaarakainen, Meri-Tuulia (2019-12-03)
---
Education and inequality in digital opportunities : differences in digital engagement among Finnish lower and upper secondary school students
(03.12.2019)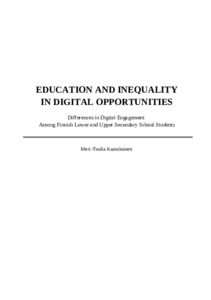 Turun yliopisto
Julkaisun pysyvä osoite on:
https://urn.fi/URN:ISBN:978-951-29-7819-9
Tiivistelmä
The purpose of this work is to broaden the debate on digital technology in education by emphasising the digital affordances enabled by these technologies instead of focusing on the integration of digital devices and learning materials and digital pedagogy into educational practices. Digital action potentials are not equally open to everyone, requiring the scrutinisation of digital inequality as a relative issue limiting the abilities of individuals to benefit from these opportunities. In the context of education, this dissertation concentrates on the social structures affecting the unequal distribution of digital engagement which determines individual's positioning in relation to digital affordances.

These theoretical backgrounds construe the following research questions: To what extent do social structures, specifically gender, age, and educational choices, determine the digital engagement of 12–22-year-old Finns? And, to what extent and in what ways does digital engagement accumulate, as exhibited by certain individuals more than others among Finnish lower and upper secondary school students? An empirical part answering these questions consist of five original articles utilising two samples of Finnish lower and upper secondary school students. In total, the 11,820 students' digital usage habits and digital skills are analysed through multivariate statistical methods.

Gender as a social category appears to be producing differences in students'digital engagement. The results indicate that gender differences in digital engagement among Finnish lower and upper secondary school students are largely domain-specific and related to gendered preferences and interests. In other words, tendencies towards the ways of experiencing digital technology and potential digital affordances appear to be gendered. Because the patterns of these preferences appear clearly in the data concerning lower and upper secondary school students, they are likely to develop during the early years of childhood and youth.

Age, even among young people, has an impact on both digital skills and usage. The importance of age as an independent variable is explained by the increasing versatility of students' use of digital technology as they grow older. It is the diversity of digital experiences, in particular, that enriches young people's digital skills.

Education appears as the most significant single factor producing differences in young people's digital engagement. Education manifests itself as a categorical social hierarchy as the level of education increases the digital engagement. At the same time, there are significant differences in digital engagement within the same educational level, and digital engagement is generally most likely exhibited by students in the male-dominated fields of education. In particular, genderedness is present in relation to students' views of the ICT as a tempting field of education or profession in the future. As both students' orientation towards technology and their educational choices are heavily gendered, they reinforce each other and increase gender gaps in relation to digital engagement and potential digital affordances among the future citizens of the information society.

Overall, the current study emphasises the need of sociological scrutinisation in order to understand the importance of digital technology and related social activities in the context of education. The results of this dissertation indicate that gender, age and gendered educational choices determine the digital engagement of young Finns. Digital engagement tends be exhibited by certain individuals as skills and usage are intertwined and mutually reinforcing. It is evident that compound and sequential dimensions distinctively describe the digital engagement of Finnish lower and upper secondary school students. Where comboundness characterises the accumulation of digital engagement for certain individuals, sequentiality increases the likelihood that these individuals will also benefit most from the available digital affordances. In extreme circumstances, sequentiality of digital engagement describes the path to either digital prosperity or exclusion making it an important educational policy issue to be acknowledged in the information society.