The commercialization process of high technologies : case studies of high technologies from ICT, cleantech and life sciences industries
Gbadegeshin, Saheed Adebayo (2019-12-13)
---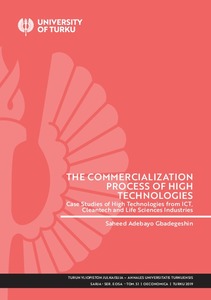 Gbadegeshin, Saheed Adebayo
Turun yliopisto. Turun kauppakorkeakoulu
13.12.2019
Julkaisun pysyvä osoite on:
http://urn.fi/URN:ISBN:978-951-29-7857-1
Tiivistelmä
Commercialization of high technologies refers to a process that transforms radical and disruptive innovations into consumable products, services and solution packages. This process generates returns on research and development investments, employs highly educated people, empowers semi-skilled persons and makes business enterprises prosperous and sustainable. Hence, this study investigated the commercialization process purposely to provide in-depth knowledge of it. The study aimed to investigate how high technologies are commercialized, especially in ICT, Cleantech and the Life Sciences industries to provide a better understanding of the commercialization process. This understanding is essential due to the increase in new high technologies and rapid changes in these industries.
The study employed a case study research method to achieve its goal. It used interviews, an online survey, observations and documentary for data collection, and content and thematic methods for data analysis. It used primary and secondary data that were collected between 2012 and 2017. Its participants represented stakeholders of the above-mentioned industries. The participants mostly came from Finland, but some came from other European countries.
The study found that the commercialization process models are rooted in the Technology Acceptance Model (TAM), Unified Theory of Acceptance and Use of Technology (UTAUT), Stage-gate, Effectuation, Bricolage and Lean Start-up theoretical frameworks. Similarly, it found that the process makes use of a mixture of linear and non-linear logic. Additionally, it found that the commercialization process starts during the pre-innovation phase and continues after the innovation's marketing phase, and that commercialization activities must be performed in parallel (simultaneously). Most interestingly, the study revealed that digitalization has changes on the commercialization process.
Based on the findings, the study proposed a new model for commercializing high technologies in the above-mentioned industries; a framework termed the "Integrative Commercialization Process" (ICP). The model was built on theories, theoretical frameworks and models of the innovation process, New Product Development (NPD), Entrepreneurship, Spinoff, Transfer of Technology (TOT) and Marketing. Similarly, the model was built on the context of ICT, Cleantech and the Life Sciences. Hence, the study offered insights into the theoretical frameworks of the innovation, the NPD, Spinoff and marketing fields. Furthermore, the study provided practical insight for the stakeholders of the aforementioned industries, especially potential entrepreneurs (e.g., scientists and engineers), technology entrepreneurs, entrepreneurship educators, commercialization practitioners, universities and research institutes and companies. Therefore, this study makes contributions to the theory and practice of commercialization.
Korkean teknologian kaupallistamisella viitataan prosessiin, jossa radikaalit ja disruptiiviset innovaatiot kehittyvät kulutettaviksi tuotteiksi, palveluiksi tai ratkaisuiksi. Kaupallistaminen tuottaa vastinetta tehdyille investoinneille, työllistää koulutettuja ihmisiä sekä luo menestyvää ja kestävää liiketoimintaa. Tässä väitöskirjassa on tutkittu kaupallistamisprosessia ja tuotettu syvällisempää uutta tietoa siitä. Tutkimuksen tavoitteena oli selvittää millä tavoin korkean teknologian kaupallistaminen tapahtuu, erityisesti ICT-, Life Sciences-, sekä Cleantech – aloilla sekä tuottaa parempaa ymmärrystä kaupallistamisprosessista näillä aloilla. Näillä teknologianaloilla kasvu on nopeaa ja isoja muutoksia tapahtuu jatkuvasti. Korkean teknologian kasvavasta merkityksestä ja nopeista muutoksista johtuen näiden alojen kaupallistamisprosessin ymmärtäminen on erittäin tärkeää.
Tutkimus on toteutettu tapaustutkimuksena. Tutkimusaineistoa on kerätty haastatteluin sekä kyselytutkimuksen, dokumenttiaineiston ja havainnoinnin keinoin. Tutkimusaineisto on analysoitu sisältöanalyysin sekä temaattisen analyysin avulla. Primäärinen ja sekundäärinen tutkimusaineisto on kerätty ajanjaksolla 2012-2017. Tutkimukseen informantit ovat yllämainittujen alojen edustajia. Suurin osa informanteista oli Suomesta, mutta joitakin osallistujia oli myös muista Euroopan maista.
Tehdyn tutkimuksen perusteella kaupallistamisen prosessi pohjautuu Technology Acceptance-malliin (TAM), Unified Theory of Acceptance and Use of Technology (UTAUT) -teoriaan, sekä Stage-gate-, Effectuation-, Bricolage-, ja Lean Start-up -viitekehyksiin. Samoin tutkimuksessa havaittiin, että prosessi on yhdistelmä lineaarista ja epälineaarista logiikkaa. Lisäksi havaittiin, että kaupallistamisprosessi alkaa jo ennen innovaatiovaihetta, jatkuu vielä innovaation markkinointivaiheen jälkeen sekä edellyttää eri kaupallistamisaktiviteettien samanaikaista toteuttamista. Mielenkiintoista on, että digitalisaatio muuttaa kaupallistamisprosessia.
Tutkimustuloksiin perustuen, tutkimus esittää uuden mallin korkean teknologian kaupallistamiseksi edellä mainituilla toimialoilla: "Integrative Commercialization Process" (ICP). Tämä malli perustuu teorioihin, teoreettisiin viitekehyksiin sekä innovaatioprosessin malleihin: uuden tuotteen kehittämisprosessi (New Product Development, NPD), Yrittäjyys (Entrepreneurship), Spinoff-prosessi, teknologiansiirto (Transfer of Technology, TOT) ja markkinointi (Marketing)
Malli on rakennettu ICT-, Cleantech- sekä Life Science-alan konteksteissa ja se tarjoaa uusia näkökulmia innovaatioiden teoreettisiin viitekehyksiin, uuden tuotteen kehittämisprosessiin, spinoff-toimintaan sekä markkinointiin. Lisäksi tutkimus tarjoaa käytännön tietoa yllämainittujen alojen sidosryhmille, erityisesti potentiaalisille yrittäjille (esimerkiksi tutkijat ja insinöörit), teknologiayrittäjille, yrittäjyyden kouluttajille, kaupallistamisen asiantuntijoille, yliopistoille, tutkimuslaitoksille ja yrityksille. Tämä tutkimus tuottaa kontribuutiota niin kaupallistamisen tieteelliseen keskusteluun kuin käytäntöön.