Porn and norms : pornography and normative notions of gender, love, sex, and relationships in the sexual narratives of Finns on their adolescent experiences
Spišák, Sanna (2019-11-30)
---
Porn and norms : pornography and normative notions of gender, love, sex, and relationships in the sexual narratives of Finns on their adolescent experiences
(30.11.2019)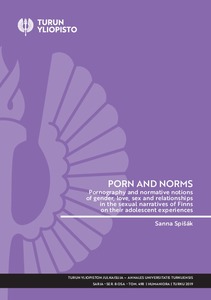 Turun yliopisto
Julkaisun pysyvä osoite on:
https://urn.fi/URN:ISBN:978-951-29-7874-8
Tiivistelmä
This dissertation uses an interdisciplinary approach to focus on 10–17-year-old Finns' engagement with and thoughts of pornography. The emotional debates – both public and academic – concerning the consumption of pornography among adolescents lack, for the most part, the perspective of the young. This shortcomingis notable, given how adolescents are considered to be at particular risk due to mobile media devices and pervasive online access. This dissertation sets out to bridge some of the current knowledge gaps among the discussions of sexual media, pornography in particular, and their alleged harmful impact. It does this by concentrating on the sexual narratives of Finns about their adolescent experiences of pornography and understanding them as particular investments to the ideals of gender, love, sex, and relationships.
I became interested in how young people navigate pornographic representations of sex and what these mean to them while I was searching for a more holistic account of the role of the media in adolescents' lives. I divided this formulation of a research problem into four more specific research questions: 1) What transformations and continuities might early encounters with pornography involve? 2) How do young Finns perceive pornographic representations? 3) How do young Finns recount what pornography does to its audiences? and 4) How is the sexual agency of girls featured in their personal accounts of pornography use?
My study falls within the field of media participation studies and adopts qualitative, participant-centred research methods on media audiences for an in-depth understanding of young Finns' experiences with and interpretations of pornographic content. The central emphasis of my study is on the social and interpersonal processes through which the meanings of pornographic representations are constructed and defined. I argue that acknowledging underlying social and cultural structures, sexual media are a site for developing diverse understandings of gender, sexual identities and relationships. This is the most essential delimitation for this work, which presents a significant departure from those accounts that concentrate solely on alleged harms of pornography consumption on young people.
I have built my dissertation with its four research articles around three pools of different material sets including over 4300 questions about sexuality, sex and sexual health that were sent by Finnish adolescents to experts in sexual health fields, 45 written contributions on the 2012 research project on memories of pornography and 98 contributions from young Finns aged 13–17 years to the online survey that was conducted as part of a media education awareness campaign of e-Talo (e-House), a Finnish online youth club. These three material sets form the empirical structure of my dissertation, drawing from personal accounts of adolescents' practices with pornographic representations in Finland from the mid-1940s to the present day. These material sets – both individually and together – are offered as context-sensitive case studies in the revisiting of the sexualisation debate from a social constructionist perspective. Throughout this thesis, I intentionally challenge this narrative of sexualisation that sees sexual media as inherently damaging for underaged people by presenting my empirical evidence. Instead of constructing underaged people as 'incomplete' beings impressionable by media influence, I see that young people are active, critical agents concerning media.
The analysis conducted in this research covers various subjects ranging from a) transformations and continuities of early encounters with pornography in the decades since World War II in Finland, b) questions about pornography that were sent by young people in Finland to experts on sexual health, c) forms of learning connected to pornography, d) girls' accounts of sexual exploration, learning, and the pursuit of pleasure through pornography and e) their conceptions of the difference between pornographic representations and "actual sex". Through these analyses, I challenge 'the Porn Generation' discourse by presenting empirical evidence on the roles that pornography has played in childhood media culture, sexual practices, and experiences long before the era of mobile media devices and online access. Furthermore, I argue that young people's perceptions of pornography are more diverse than typically assumed in both public and some academic debates. I additionally argue that the forms of learning connected to pornography are more varied and complex than those limited to sexual behaviour and sexual acts alone. As such, young people's engagement with and thoughts of sexually explicit media should be paramount when considering pornography's potential impact, particularly on underaged people.
To conclude, I present that risk- and harm-based discourses concerning underaged people's pornography consumption, heteronormativity, and the very ideals of romantic intimacies play a crucial role in defining relationships and sex in contrast to pornographic representations of sex. As such, these expose a considerable gap between the apparent notions of pornography's forceful and 'bad' pedagogy and youngsters' personal accounts in which practices of pornographic representations are, for the most part, detached from notions of personal, embodied sexual behaviour.
Tämä moniaineistoinen, laadullinen ja poikkitieteinen väitöskirja tarkastelee 10–17-vuotiaiden suomalaisnuorten pornografiaan liittyviä käsityksiä ja tulkintoja. Pornografisten kuvastojen läpitunkevuus on herättänyt paikoin kiivaitakin keskusteluita pornografian asemasta yhteiskunnassamme. Vaikka keskusteluita on kauttaaltaan sävyttänyt huoli siitä, miten pornografinen kuvasto vaikuttaa lapsiin ja nuoriin, juuri tätä teemaa on tutkittu verrattain vähän. Tietopohja on erityisen hatara sen suhteen, miten lapset ja nuoret itse suhtautuvat pornografisiin sisältöihin. Tutkimukseni tuottaa uutta tietoa siitä, miten suomalaisnuoret tulkitsevat pornografisia kuvastoja osana seksuaalisuutta, seksiä, sukupuolta ja ihmissuhteita, koskevia näkemyksiä ja asenteita.
Yleisö- ja kulttuurintutkimuksen perinteisiin nojaten hyödynnän laadullisia tutkimusmenetelmiä voidakseni ymmärtää syvällisemmin, miten suomalaisnuoret tulkitsevat pornografisia sisältöjä ja mitä nämä sisällöt heille merkitsevät. Selvitän, 1) miten pornografinen kuvasto on ollut läsnä suomalaislasten ja -nuorten elämässä eri vuosikymmeninä, 2) millaisia ymmärryksiä suomalaisnuorilla on pornografiasta, 3) miten nuoret kuvaavat pornografian mahdollisia vaikutuksia ja 4) miten pornografinen mediakuvasto on läsnä tyttöjen identiteetti-, sukupuoli- ja seksuaalisuuskäsityksissä. Tutkimukseni keskiössä on ymmärrys merkitysten rakentumisesta osana kulttuurisia, yhteiskunnallisia ja sosiaalisia vuorovaikutussuhteita. Tämä katsantokanta on keskeisin ero niihin tutkimuksiin, jotka tarkastelevat alaikäisten pornografian kulutusta vain median mahdollisten haittavaikutusten näkökulmasta
Tämä väitöskirja, joka sisältää johdanto-osion ja neljä itsenäistä tutkimusartikkelia, pohjautuu kolmeen laajaan tutkimusaineistoon: 1) yli 4300 suomalaisnuorten verkossa oleviin seksuaaliterveyspalveluihin lähettämää seksuaalisuuteen, seksiin ja seksuaaliterveyteen liittyvää kysymystä vuosilta 2013–2015, 2) Suomalaisen Kirjallisuuden Seuran kansanrunousarkiston kanssa toteutetun pornografiaa käsittelevän muistitiedon keruuhankkeen vastaukset vuodelta 2012 (n= 45) sekä 3) e-Talon kanssa vuonna 2015 yhteistyössä toteutetun verkkokyselyn alaikäisten vastaajien vastaukset (n= 98). Nämä laadulliset aineistot muodostavat tutkimukseni empiirisen rakenteen.
Aineistojen rinnakkaisilla ja toisiaan täydentävillä analyysimenetelmillä oli mahdollista tarkastella syvemmin a) suomalaisnuorten pornografian kulutukseen liittyviä jatkumoita ja siirtymiä aina 1940-luvulta nykypäivään, b) nuorten pornografian kulutukseen liittyviä kysymyksiä seksuaaliterveyden ammattilaisille, c) pornografian kulutukseen mahdollisesti liittyviä oppisen muotoja ja teemoja, d) tyttöjen pornografiaan liittyviä käsityksiä ja toimintatapoja, sekä e) tyttöjen käsityksiä pornografiassa nähdyn seksin ja ns. oikean seksin välillä. Analysoimani aineistot ensinnäkin osoittavat, kuinka pornografiset sisällöt ovat olleet osa suomalaislasten ja -nuorten arkea jo aikaa ennen internetiä ja mobiililaitteita. Toisekseen väitän, että nuorten käsitykset pornografiasta ovat paljon monimuotoisempia, mutkikkaampia ja syvällisempiä kuin julkisessa keskustelussa annetaan ymmärtää. Aineistojeni nuoret korostavat käsittävänsä eron pornografisten representaatioiden ja "oikean seksin" välillä. He pystyvät erittelemään kriittisesti fiktiivisiä, stereotyyppisiä tai sukupuolittuneita seksuaalisuuden ja seksin representaatioita sekä tekemään vastuullisia valintoja omiin seksuaalioikeuksiin liittyen.
Aineistoni eivät myöskään tue käsitystä pornografisten sisältöjen turmelemista nuorista. Aineistoni kiinnostavasti osoittavat, että alaikäisten pornografian kulutusta ruotiva aikuisten haittapuhe vaivaa nuoria enemmän kuin itse pornografiassa nähdyt sisällöt. Väitän myös, että pornografiaan liittyvä oppiminen on monimuotoista eikä rajoitu pelkästään seksuaalikäyttäytymiseen. Aineistoni perusteella pornografiaan liittyvä pedagogiikka on ennen kaikkea sukupuolisidonnaista ja normatiivista haittapuheeseen verhottua asennekasvatusta, kuinka pornografisiin sisältöihin tulisi suhtautua. Tutkimukseni perusteella väitän, että nuorten omat käsitykset ja tulkinnat pornografiasta tulisi olla keskiössä, kun keskustellaan pornografian vaikutuksista alaikäisiin.