Knowledge representation and text mining in biomedical, healthcare, and political domains
Heimonen, Juho (2019-11-27)
---
Knowledge representation and text mining in biomedical, healthcare, and political domains
(27.11.2019)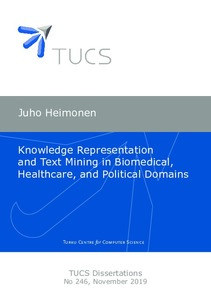 Turku Centre for Computer Science
Julkaisun pysyvä osoite on:
https://urn.fi/URN:ISBN:978-952-12-3881-9
Tiivistelmä
Knowledge representation and text mining can be employed to discover new knowledge and develop services by using the massive amounts of text gathered by modern information systems. The applied methods should take into account the domain-specific nature of knowledge. This thesis explores knowledge representation and text mining in three application domains.

Biomolecular events can be described very precisely and concisely with appropriate representation schemes. Protein–protein interactions are commonly modelled in biological databases as binary relationships, whereas the complex relationships used in text mining are rich in information. The experimental results of this thesis show that complex relationships can be reduced to binary relationships and that it is possible to reconstruct complex relationships from mixtures of linguistically similar relationships. This encourages the extraction of complex relationships from the scientific literature even if binary relationships are required by the application at hand. The experimental results on cross-validation schemes for pair-input data help to understand how existing knowledge regarding dependent instances (such those concerning protein–protein pairs) can be leveraged to improve the generalisation performance estimates of learned models.

Healthcare documents and news articles contain knowledge that is more difficult to model than biomolecular events and tend to have larger vocabularies than biomedical scientific articles. This thesis describes an ontology that models patient education documents and their content in order to improve the availability and quality of such documents. The experimental results of this thesis also show that the Recall-Oriented Understudy for Gisting Evaluation measures are a viable option for the automatic evaluation of textual patient record summarisation methods and that the area under the receiver operating characteristic curve can be used in a large-scale sentiment analysis. The sentiment analysis of Reuters news corpora suggests that the Western mainstream media portrays China negatively in politics-related articles but not in general, which provides new evidence to consider in the debate over the image of China in the Western media.