Towards enhancing the durability and strength of dentin-resin bond : the role of dimethyl sulfoxide (DMSO) as an alternative solvent in dental adhesives
Salim Al-Ani, Anas Aaqel (2019-12-13)
---
Towards enhancing the durability and strength of dentin-resin bond : the role of dimethyl sulfoxide (DMSO) as an alternative solvent in dental adhesives
(13.12.2019)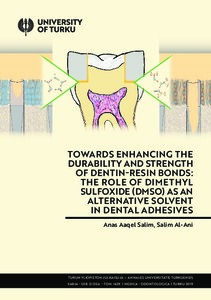 Turun yliopisto
Julkaisun pysyvä osoite on:
https://urn.fi/URN:ISBN:978-951-29-7906-6
Tiivistelmä
One of the main goals in adhesive dentistry is the preservation of the hybrid layer, a unique biological composite layer, formed by the impregnation of collagen fibrils in the dentin structure with adhesive resin. Different adhesive strategies have been used to achieve this.

One strategy focuses on the inhibition of endogenous protease activity, and the other strategy on improving the penetration and impregnation of the adhesive monomers in demineralized dentin.

Dimethyl sulfoxide (DMSO; (CH3)2SO) is a polar aprotic solvent which dissolves polar and nonpolar compounds. It has the ability to penetrate biological tissues and has been used to solvate dental resin monomers. It has recently been suggested to improve the durability and longevity of bonding, by enhancing the penetration of resin monomers in dentin.

Four studies were designed to evaluate the impact of DMSO on the durability of resin-dentin bonding, to evaluate the effects of incorporating DMSO into experimental adhesives with different hydrophilicities on mechanical and physical properties, as well as the biological effects on cells. The aim of this series of studies is to evaluate the effect and mechanism of action of DMSO on resin-dentin bonding, to find one optimal concentration or range of concentrations of DMSO that can be safely incorporated into resin adhesive systems to improve the integrity and stability of bonding to dentin.

Results of these studies showed that pre-treating dentin with low DMSO concentrations (1–5 vol. %) preserve the integrity of adhesion and enhance the permeability of small-molecule monomers in dentin. Results also showed thatincorporation of 1 w/w % or less DMSO to adhesive did not impair the mechanical and physical properties of hydrophobic and hydrophilic adhesives. Results also showed that incorporation of DMSO into hydrophobic adhesive did not increase the cytotoxicity, while 1 w/w % and more DMSO incorporation into hydrophilic adhesive showed an increase of cytotoxic effects.

These results suggested that when DMSO (1–5 vol. %) used as dentin- pretreatment, it improves the durability and quality of resin-dentin bonding. Results also suggested that the addition of DMSO to hydrophobic and hydrophilic adhesives (up to 1 % w/w), did not negatively affect their physical or mechanical properties. Addition of DMSO (up to 10 % w/w) to hydrophobic or hydrophilic adhesives did not increase the cytotoxicity from eluates, while the addition of DMSO (1 w/w %) to hydrophilic resin caused an increase in the transdentinal cytotoxic effects.