Investigation of properties of solar energetic particles and geomagnetic storms related to coronal mass ejections
Dheyaa, Ameri (2019-12-19)
---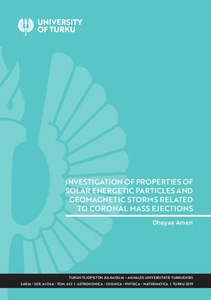 Turun yliopisto
19.12.2019
Julkaisun pysyvä osoite on:
http://urn.fi/URN:ISBN:978-951-29-7914-1
Tiivistelmä
Solar energetic particles (SEPs) and geomagnetic storms related to coronal mass ejections (CMEs) are a major research topic in solar-terrestrial and geospace physics. Solar energetic particles and coronal mass ejections can impact the Earth's ionospheremagnetosphere-atmosphere system and lead to various adverse effects on space-born and ground-based technologies. This doctoral dissertation investigates the dependence of the properties of SEP events and geomagnetic storms on the parameters characterizing the CMEs and solar phenomena temporally related to the CMEs, such as solar flares and radio bursts.

We have carried out a statistical study of the properties of geomagnetic storms and SEP events associated with full-halo CMEs originating from close to the solar disk centre. We found that 50% of all the selected CMEs were geoeffective and 39% of these CMEs were associated with SEP events. We also investigated the dependence of the occurrence rate and strength of geomagnetic storms on the CME and solar flare parameters and on the solar wind conditions. This investigation covered the two most recent 11-year solar activity cycles and their different phases.

We have investigated the feasibility of using energetic particle and coronal mass ejection observations in geomagnetic storm forecasting. A good correlation was found between the storm strength and three parameters, two of them characterizing the solar proton events and one the direction of the CMEs. We proposed an empirical equation based on these three parameters to be used for mid-term forecasting of geomagnetic storm strengths enabling warning times of (15 _ 10) hours.

In a comprehensive analysis of high-energy solar proton events we discovered that these events can be divided into two categories based on the associations of the proton events and on the proton release times with respect to the temporally related radio type II bursts. Category 1 proton events were related to metric type II bursts, while in Category 2 the proton events were associated with decametric-hectometric type II emission. The events in Categories 1 and 2 exhibited significantly different characteristics due to acceleration in different heights in the solar atmosphere and possibly in different processes.