Coolest student papers at Finlands Future Research Centre 2018-2019 - Tulevaisuuden tutkimuskeskuksen valittuja opiskelijatöitä 2018-2019
---
Coolest student papers at Finlands Future Research Centre 2018-2019 - Tulevaisuuden tutkimuskeskuksen valittuja opiskelijatöitä 2018-2019
(16.12.2019)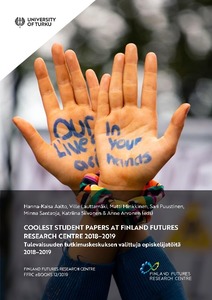 Turun yliopisto. Turun kauppakorkeakoulu
Julkaisun pysyvä osoite on:
https://urn.fi/URN:ISBN:978-952-249-538-9
Tiivistelmä
We have the pleasure inviting you to have look at the inspired and inspiring picks from the student essays written by students and student groups in the courses organised by Finland Futures Research Centre (FFRC). This is already the forth volume of our Coolest Student Papers series.

The reason for publishing student papers is that as teachers of the courses we have many times thought that with some edition of a student essay they could get a real article published, but students seldom do this, even if they would be encouraged. Such a shame! We established Coolest Student Papers as a lower threshold forum for publishing these very good texts, some of which are of scholarly calibre. Once again this year's selection shows that brilliant new students arrive our courses. We wish to reward their hard work in their intellectual endeavour by publishing their essays.

The topics range from sustainability transitions to corporate foresight, from ethics to methodology and cultural sustainability. Independent, constructively critical open deliberation of how futures studies should be carried out is one of the core goals of our education and a key to further development of the courses and the whole field of futures studies.

The volume is divided to sections by the courses. Each section begins with an evaluation made by the teacher after which the student essay(s) follow(s). There are 16 essays in total of which four are written in Finnish language. The Sustainable Development minor and the Futures Studies minor are offered in Finnish. The essays in English at the beginning of the volume are from the international Master's Degree Programme of Futures Studies. Our PhD programme essays are excluded as we expect postgraduates to aim directly at journal articles.

Dear Reader, we wish you the joy of looking at the field of futures studies from the student viewpoint.

Have a nice journey.