Working papers in Economic sociology : Research Report on Finland in the Digital Age Round 2 Panel -survey
Sivonen, Jukka; Kuusela, Anna; Koivula, Aki; Saarinen, Arttu; Keipi, Teo (2019-12-18)
---
Working papers in Economic sociology : Research Report on Finland in the Digital Age Round 2 Panel -survey
Sivonen, Jukka
Kuusela, Anna
Koivula, Aki
Saarinen, Arttu
Keipi, Teo
(18.12.2019)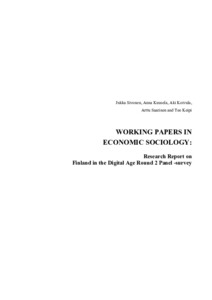 Turun yliopisto
Julkaisun pysyvä osoite on:
https://urn.fi/URN:ISBN:978-951-29-7915-8
Tiivistelmä
This is a follow-up report to a previously published release Finland in the Digital Age Research Report on Finland in the Digital Age Survey (for details, see Sivonen et al. 2018). The report is attached to the ongoing research project "Political Bubbles and Media".

The survey in question asked the respondents if they would like to join an online panel for follow-up research. In total, 1708 respondents expressed that they are willing to join to the panel, and altogether 1141 answered the follow-up survey.

This report contains information on designing, collecting and finishing the data. The codebook of the survey is presented as an attachment at the end of this report. The report is primarily intended as a guide for the users of the panel data.