Biomarkers in stage II colorectal cancer
Slik, Khadija (2020-02-21)
---
Biomarkers in stage II colorectal cancer
(21.02.2020)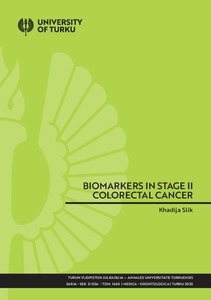 Turun yliopisto
Julkaisun pysyvä osoite on:
https://urn.fi/URN:ISBN:978-951-29-7936-3
Tiivistelmä
The risk of recurrence of stage II colorectal cancer is difficult to predict. A part of recurrences take place among patients without any of the known high-risk factors such as lymphovascular invasion or preoperative obstruction. In addition, microsatellite instability status and tumour budding have been included to risk stratification of colorectal cancer patients. The aim of this study is to find new biomarkers and their combinations, which could more efficiently identify high risk stage II colorectal cancer patients. For this purpose, a cohort of 232 stage II colorectal cancer patients treated at Turku University Hospital has been collected and a tissue microarray has been constructed from their paraffin-embedded tumour material.

Ezrin is a cytoskeleton-associated protein that participates in cellular signaling, cell survival, proliferation and migration. High protein expression of ezrin in cancer cells has been linked to poor outcome in many cancer types. The diminished protein expression of transcription factor CDX2 has been associated with inferior outcome in stage II and III colorectal cancer. The association of high tumour budding with poor outcome in colorectal cancer has been well documented, but the molecular biological mechanisms behind this are poorly known. There is evidence that tumour budding is associated with epithelial-mesenchymal transition (EMT) but the exact molecular biological mechanism of this has not been properly studied. In this study, the protein expression of ezrin, CDX2 and EMT markers integrin 4 beta, E-cadherin and ZO-1 have been studied in relation to clinicopathological variables and survival.

The main results of the studies showed high ezrin protein expression and CDX2 loss in patients with microsatellite stable tumours to be independent risk factors of poor disease-specific survival in stage II colorectal cancer. High expression of EMT-marker integrin 4 beta in tumour buds analysed with digital image analysis correlates with visual tumor budding analysis, and it proved to be an independent risk factors of poor disease-specific survival. In conclusion, high ezrin protein expression, CDX2 loss and EMT-marker integrin 4 beta are new promising biomarkers in risk stratification of stage II colorectal cancer patients.