Trapped in gender : understanding the concept of gender and its use in law
Verdu Sanmartin, Amalia (2020-02-28)
---
Trapped in gender : understanding the concept of gender and its use in law
(28.02.2020)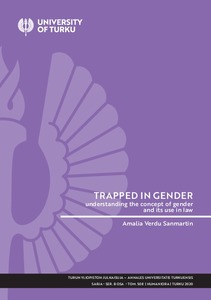 Turun yliopisto
Julkaisun pysyvä osoite on:
https://urn.fi/URN:ISBN:978-951-29-7971-4
Tiivistelmä
What is gender? What is the meaning of gender in law? At first sight, these questions seem easy to answer, but the analysis and use of the concept of gender gives a very different picture. The concept of gender has credit in the fight for equality but, is it still useful to fight sex discrimination?

This work tries to answer these questions exploring the concept of gender and its development within feminism. There are two main points of analyses, the construction of the concept tied to the notion of sex difference entrenching sex and gender in an indissoluble relation and, the development of the concept of gender within feminism.

The concept of gender develops to become many things: the synonym of women, sex, social sex or even socio-cultural oppression. With regard to women, gender is a paradox: they have become neutral and equal subjects even if still keeping certain aspects of their womanhood. The concept of gender has also travelled into law incorporating the term, with its ambiguities in legislation. National and international laws have imported the same feminist ambiguities and the compulsory binary of sexual difference with the use term gender.

The assumptions about sex and gender materialize in the reading of bodies legitimized by law. The relation between sex and gender is ruled by a gendered reading of the body. The restricted sexed depiction of the bodies interplay with the concept of gender producing inclusions and exclusions and ruling the bestowing of rights and responsibilities. The interplay of sex and gender with the feminist and the legal discourse continue to produce exclusions and hinders the possibilities of Queering the subject in society and in law. In relation to the subject, the concept of gender reifies the binary of sex and gender roles constraining further developments in the achievement of equality.

The language of gender is exhausted thus the need of moving forward and look at new concepts that might depict the actual world.