A Roadmap until 2030 and first action plan for the Peruvian agri-food sector, focusing on Andean native crops : results from the 3rd and 4th Futures Workshops of the Pecolo Project
Lakkala, Hanna; Shaw, Morgan; Birmoser Ferreira-Aulu, Marianna; Del Carpio Rodríguez, Amed Omar; Kaskinen, Juha; Repo-Carrasco-Valencia, Ritva; Morales-Soriano, Eduardo; Vargas Delgado, Luis Fernando; Vidaurre-Ruiz, Julio (2020-02-17)
---
A Roadmap until 2030 and first action plan for the Peruvian agri-food sector, focusing on Andean native crops : results from the 3rd and 4th Futures Workshops of the Pecolo Project
Lakkala, Hanna
Shaw, Morgan
Birmoser Ferreira-Aulu, Marianna
Del Carpio Rodríguez, Amed Omar
Kaskinen, Juha
Repo-Carrasco-Valencia, Ritva
Morales-Soriano, Eduardo
Vargas Delgado, Luis Fernando
Vidaurre-Ruiz, Julio
(17.02.2020)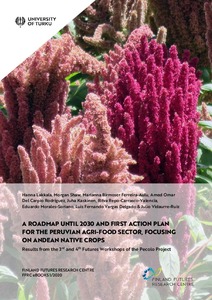 Turun yliopisto. Turun kauppakorkeakoulu
Julkaisun pysyvä osoite on:
https://urn.fi/URN:ISBN:978-952-249-540-2
Tiivistelmä
PECOLO, or Native crops for sustainable and innovative food futures in Peru and Colombia, was a collaborative project involving the University of Turku, Finland (UTU), Universidad Nacional Agraria La Molina, Peru (UNALM) and Universidad el Bosque, Colombia (UEB). From UTU, Finland Futures Research Centre (FFRC) coordinated the project. In addition, the Functional Foods Forum and Department of Biochemistry of the University of Turku were also participating in the project.

One of the key focus areas of the PECOLO project was the development of innovation environments around native Andean crops. Futures research and foresight methodologies were used as novel tools for developing innovation environments in cooperation with academic, public and private sector organizations and NGOs.

This is the second of two publications concerning Peru that have been produced based on the results of the PECOLO project's four-stage futures process. The first, A Scenario for the Desirable Future of the Peruvian Agri-Food Sector 2030, Focusing on Andean Native Crops: Results from the 1st and 2nd Futures Workshops of the PECOLO Project , describes the methods and results of the first two steps of the futures process. The outcome was a futures table describing a set of three alternative futures for the Peruvian agri-food sector that reconsider the potential of Andean crops, as well as a scenario narrative for the most desirable future.

This second publication covers the work that took place during the project's third and fourth futures workshops. The third workshop established a vision for 2030 based on the desirable scenario of the second workshop, and a roadmap for the Peruvian agri-food sector with a special focus on Andean native crops. The fourth and final workshop elaborated concrete actions that can and should be taken by stakeholders in the first implementation period, from 2020–2022, in order to begin to move toward these common goals.

The PECOLO project was funded by the Ministry for Foreign Affairs of Finland between 2017–2019 under the HEI-ICI Programme (Higher Education Institutions – Institutional Capacity-building Instrument).