Impact of estradiol and quorum sensing on biofilm-related virulence of the Prevotella intermedia group: – in vitro studies on bacterial growth properties, proteolytic enzyme activity and cytokine production
Fteita, Dareen (2020-04-04)
---
Impact of estradiol and quorum sensing on biofilm-related virulence of the Prevotella intermedia group: – in vitro studies on bacterial growth properties, proteolytic enzyme activity and cytokine production
(04.04.2020)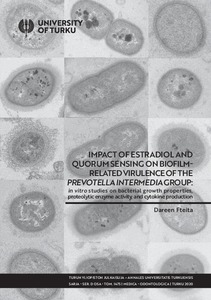 Turun yliopisto
Julkaisun pysyvä osoite on:
https://urn.fi/URN:ISBN:978-951-29-8010-9
Tiivistelmä
The Prevotella intermedia group organisms (P. intermedia, Prevotella nigrescens, Prevotella pallens, and Prevotella aurantiaca) are Gram-negative anaerobes predominantly existing in the human oral cavity. P. intermedia and P. nigrescens are characterized by their ability to consume maternal steroids; estrogen and progesterone. During pregnancy, microbial shifts in subgingival microbiota favoring P. intermedia, the tendency for gingival bleeding and elevated serum levels of maternal steroids occur. P. intermedia sensu lato (P. intermedia and P. nigrescens) is able to utilize estrogen and progesterone as a nutritional source, thus, it is here hypothesized that estradiol, the most potent estrogen during pregnancy, has an impact on the growth properties and pathogenicity of the P. intermedia group organisms. The aim of this study series was to examine the effect of estradiol on the growth behavior, biofilm formation and proteolytic enzyme activity of the P. intermedia group bacteria. Secondly, the impact of estradiol and QS on gingival keratinocyte response against the cell extracts of P. intermedia group bacteria, was determined based on the cytokine response. Thirdly, the role of quorum sensing (QS) molecules as enzyme and biofilm inhibitors was evaluated. The nine strains of P. intermedia group bacteria used in the study were: P. intermedia ATCC 25611T and AHN 8290, P. nigrescens ATCC 33563T and AHN 8293, P. pallens NCTC 13042T and AHN 9283, and P. aurantiaca AHN 37505, AHN 37552, and CCUG 57723. In addition, Fusobacterium nucleatum ATCC 25586T was used in the coaggregation assays. Colony forming unit, spectrophotometric, Bradford and phenol-sulfuric acid methods were used to examine the planktonic growth, coaggregation, biofilm formation, and protein and polysaccharide levels, respectively. Enzyme activities of the P. intermedia group bacteria were determined with fluorometric methods and zymography, while cytokine responses were analyzed by Luminex multiplex immunoassay. The study indicated that estradiol has a significant regulatory effect on the biofilm-related virulence of P. intermedia group organisms in a dose- and strain-dependent manner. QS molecules may be considered a promising therapeutic target in the treatment of oral chronic conditions related to bacterial biofilms, including pregnancy-associated gingivitis.