Neoadjuvant chemotherapy in muscle-invasive bladder cancer
Salminen, Antti (2020-08-28)
---
Neoadjuvant chemotherapy in muscle-invasive bladder cancer
(28.08.2020)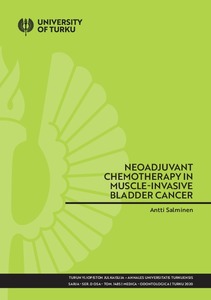 Turun yliopisto
Julkaisun pysyvä osoite on:
https://urn.fi/URN:ISBN:978-951-29-8046-8
Tiivistelmä
Bladder cancer can be divided into non-muscle-invasive and muscle-invasive types. In the muscle-invasive type of bladder cancer, removal of the bladder and internal genitalia is the cornerstone of treatment. Treatment results can be improved with pre-operative use of chemotherapy (neoadjuvant chemotherapy).

In order to evaluate neoadjuvant chemotherapy associated adverse events and the effect on radical cystectomy related complications, we collected essential clinical and pathological data for all patients treated with or without neoadjuvant chemotherapy during 2005-2014 in Finland. The key findings were that patient selection for neoadjuvant chemotherapy is successful, most severe adverse events can be seen already after the first cycle and the use of neoadjuvant chemotherapy does not increase post-operative surgical complications.

The other objective was to evaluate the potential of Positron emission tomography in combination with Magnetic resonance imaging in the evaluation of the primary staging of bladder cancer and treatment response to neoadjuvant chemotherapy. The key finding was that radical cystectomy cannot be avoided even when a complete radiological response is detected.